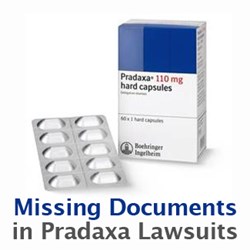 If you or someone you love has experienced Pradaxa bleeding or hemorrhaging due to Pradaxa visit yourlegalhelp.com, or call 1-800-399-0795 for a free legal consultation
Columbus, OH (PRWEB) December 12, 2013
The Pradaxa lawyers at Wright & Schulte LLC are disturbed by a recent court filing that indicates Boehringer Ingelheim had failed to preserve a large amount of evidence relevant to Pradaxa lawsuits now pending in a multidistrict litigation underway in Illinois federal court. According to court documents, the federal judge overseeing the federal Pradaxa litigation sanctioned Boehringer Ingelheim and fined the drug maker more than $931,000 for failing to preserve "countless" documents sought by plaintiffs who have filed claims against the company. In a 51-page decision dated December 9th, Judge David Herndon of the U.S. District Court, Southern District of West Virginia, slammed Boehringer Ingelheim for "gross inadequacy," and stated the company "made misrepresentations" and acted "in bad faith" by failing to ensure the documents were preserved. (In Re: Pradaxa (Dabigatran Etexilate) Products Liability Litigation – MDL No. 2385)
The documents sought by plaintiffs related to Pradaxa's development, as well Boehringer Ingelheim's plans for marketing the blood thinner, according to the ruling. Among other things, Judge Herndon found that company officials "failed to ensure the auto-delete feature of their employee cellphones, company owned and personal, was disengaged for the purpose of preserving text messages." This resulted in the destruction of "countless records," he wrote.
According to Wright & Schulte LLC the details laid out by Judge Herndon in his decision are disturbing, and would certainly appear to justify such a large sanction. The firm hopes this will serve as a warning to defendants in other large litigations to take adequate steps to preserve evidence relevant to plaintiffs' claims.
[ismp.org/QuarterWatch/pdfs/2012Q4.pdf, ISMP QuarterWatch, October 17, 2013]
Through court documents, Wright & Schulte LLC has also learned that at least 1,844 Pradaxa lawsuits have been filed in the Southern District of Ohio on behalf of 1,929 plaintiffs who allegedly suffered serious episode of internal bleeding while taking the medication. All of the complaints allege that Boehringer Ingelheim failed to provide adequate warnings regarding the potential for Pradaxa bleeding side effects, especially the lack of an effective antidote to reverse internal hemorrhaging that may occur with the drug.
For more information on Pradaxa lawsuits visit our web page.
Brought to market in 2010, Pradaxa is used to prevent strokes in atrial fibrillation patients. In October, the Institute for Safe Medicine Practices reported that the U.S. Food & Drug Administration (FDA) received just over 3,290 reports of Pradaxa side effects in 2012, more than any other drug it monitors. Most of the reports involved cases of Pradaxa bleeding, and more than 582 detailed fatalities among Pradaxa users. What's more, side effects attributed to warfarin – the decades-old blood thinner Pradaxa was meant to replace – resulted in fatal outcome just 6.5% of the time. However, Pradaxa side effects proved fatal in about 18% of the cases, the ISMP said.
Wright & Schulte LLC is already representing plaintiffs in Pradaxa lawsuits that have been filed in the federal multidistrict litigation, and continues to offer free legal consultations to alleged victims of Pradaxa bleeding side effects. For more information on filing a Pradaxa bleeding lawsuit, or to arrange for a free legal consultation, please visit yourlegalhelp.com.
About Wright & Schulte LLC
Wright & Schulte LLC, an experienced personal injury firm, is dedicated to the belief that America's legal system should work for the people. Every day, the attorneys of Wright & Schulte LLC stand up for the rights of people who have been injured or wronged and fight tirelessly to ensure that even the world's most powerful corporations take responsibility for their actions. If you're looking for a law firm that will guarantee the aggressive and personal representation you deserve, please do not hesitate to contact Wright & Schulte LLC today. Free Pradaxa lawsuit case evaluations are available through yourlegalhelp.com or by calling 1-800-399-0795.
Contact:
Wright & Schulte LLC
812 East National Road
Vandalia, Ohio 45377
1-800-399-0795
http://www.yourlegalhelp.com