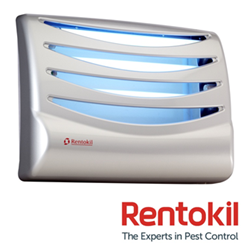 Because flies have such a short developmental life cycle, it is a concern that an infestation will spread rapidly if proper fly control measures are not implemented.
Cape Town, South Africa (PRWEB UK) 17 December 2013
With the summer season in full swing in the Southern Hemisphere, the increasing presence of flying insects - especially flies – is a growing concern to business owners.
Apart from being bothersome, flies are known to spread disease. Their sticky foot pads, used to anchor them to surfaces, are carriers of leftover particles of excrement or garbage, which in turn can be transferred rapidly onto food. The source of these particles can be as far away as 2, 6 kilometres, which is the average house fly's.
Flies are known to spread diseases like malaria, typhoid fever, cholera, conjunctivitis, tuberculosis and diarrhoea. They also cause parasitic tape worms in poultry and horses. The risk of contamination from flies is especially high in the food manufacturing industry, as well as restaurant and food catering markets, whereby these insects can not only pose a health risk, but also cause major damage to a company's reputation.
"Businesses whom neglect to regularly empty and disinfect their garbage bins are advised that a single un-emptied bin can be the breeding ground for up to 30000 flies in ideal conditions", says Mario Pluke, Technical Manager of Rentokil South Africa. Female flies lay up to 600 eggs and can reproduce a new generation every two weeks. Each fly egg hatches into a small larvae and then develop into maggots that feed in decaying food. By eating nutrients from soil or ponds, these maggots grow to adult fly size within a few days. "Because flies have such a short developmental life cycle, it is a concern that an infestation will spread rapidly if proper fly control measures are not implemented", Pluke advises.
Businesses can take matters into their own hands by ensuring good housekeeping practices to prevent flies from breeding. One can limit flies' ability to breed and feed by removing their food sources, such as leftover food, soft fruits and any sources of stagnant water which provides a fertile breeding ground. Business owners should also see to it that garbage cans are emptied at least twice a week and are kept as far away from doors as possible to avoid attracting flies. Lastly, it is also important to seal entry points around windows and doors using sealant as caulking to plug the holes.
The above methods will assist in alleviating the fly problem, but for larger infestations - and especially in food related industries - it is imperative to put in place effective fly control measures to get rid of flies before they can cause serious damage.
Rentokil's electric fly killer units are an effective fly control solution. Unlike fly zappers, Rentokil's Luminos units contain unique fly encapsulation technology. Flies are attracted to the light and thus enter the unit and get trapped inside, caught up on the adhesive film. In contrast, fly zappers electrocute flies which then cause microscopic fragments to spread throughout the surrounding environment, thus contaminating any nearby food and surfaces.
Mark Gough, Head chef of Finch's Arms says, "The Finch's Arms has never had a pest problem, and I can honestly say that since we installed the fly control unit, I've not noticed one fly in my kitchen. The Rentokil technician comes to site on a quarterly basis to replace the sticky film and rear glue board, which gives me peace of mind knowing that the unit is always efficiently working in the background, protecting against any unwanted insect visitors."
Whilst prevention is better than cure – especially in the food industry - once a fly infestation has taken place, it is important to call in the experts before it results in negative consequences. Rentokil's pest control technicians are discreet and can visit at times that suits any business' operating hours. They are qualified in performing a number of fly control methods, such as spraying, installing fly killer units and bait stations. Regular fly control inspections by qualified pest control technicians also ensure that fly infestations do no re-occur.
For more information on how to get rid of flies or to arrange a free pest control survey of your business, contact Rentokil Initial on 0800 736 865 or visit their website.