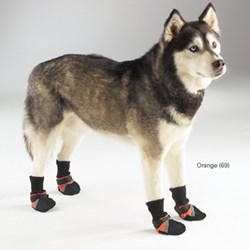 While taking measures to safeguard a pet is surely the number one priority of a pet owner, every dog deserves a few toys and treats to unwrap on Christmas morning.
Delray Beach, FL (PRWEB) December 13, 2013
The holiday season is a particularly busy time for people travelling to see family and friends, and many people prefer to bring their furry friend along for the trip. Furry Travelers, Inc., an online specialty retailer that makes travelling with pets easy, safe, and fun with their large assortment of pet travel accessories, recently released its list of top 10 doggie gifts to give man's best friend this Christmas.
Here are Furry Travelers, Inc.'s list of top 10 dog gifts for this Christmas:
1. To-Go Bowl
The number one item on Furry Travelers' list is the To-Go Bowl, the water bowl made for dogs accompanying their owner on road trips both short and long. The To-Go Bowl's patented, award-winning design includes a splash guard and lid to prevent spilling and fits conveniently into any standard-sized cup holder.
2. Doggie Baggage
The doggie baggage is great for storing all of the supplies and necessities needed when travelling with a pet. It was designed with plenty of pockets and space for easy organization and an attractive design any owner wouldn't mind sporting on-the-go.
3. KURGO Skybox Booster Seat
Made for dogs 30 lbs. and under, the skybox booster seat elevates smaller dogs on car rides to give them a window view of the road ahead, while providing safety and security with its padded seat and adjustable tether that easily attaches to a dog harness.
4. Susan Laci Sport/Travel Sling
A perfect gift for small dogs, the Susan Laci Sport/Travel sling helps owners to carry around their small pet with ease- they simply slip on the sling, tuck in their pet, and head out the door.
5. Snoozer Sporty Bike Basket
For dogs that enjoy cruising through the park on their owner's bicycle, this nifty doggie basket provides a sporty and comfortable space on the front of the handlebars, and easily detaches to double as a dog carrier.
6. Omega Paw Doggie Lunch Box
The perfect solution to packing dog food for long trips or travel, this lunch box comes in three sizes to accommodate any size dog or amount of food needed for travel time. With a sturdy carrying handle and lid that doubles as a bowl, this carrier serves as a clean and convenient method for storing dog food during travel.
7. Doggie Safety Harness
With a variety of styles and options, a safety harness is a great gift that will be used often by frequent travelers to ensure the security of their pet on road trips. The harnesses can be used for walks or car rides to protect the dog and people encountered along the way.
8. Elk Antler Chews
While taking measures to safeguard a pet is surely the number one priority of a pet owner, every dog deserves a few toys and treats to unwrap on Christmas morning. These 100% natural, long-lasting chews come from trusted, farm-raised elk and support a dog's bone, joint, and muscle health- a treat for both the owner and dog to be excited about.
9. Winter Outerwear
With a selection of coats, vests, socks, and boots, these gifts are the perfect way to keep pets warm throughout the cold winter months ahead. Not only do they keep pets comfortable and warm, they also double as a great excuse for a photo-op! There are few things cuter than a pooch in boots.
10. Interactive Dog Toys
One can never go wrong with a plush or rubber dog toy, but this toy is sure to captivate any dog for hours on end. The Busy Buddy Barnacle has a uniquely 3-chambered design made to dispense the dog's favorite treat while keeping them riveted with its unpredictable bouncing pattern.
All of these items can be found and purchased on Furry Travelers' website with more detailed descriptions and options available. To find additional information on these products or make a purchase, go to: http://www.furrytravelers.com/.
About Furry Travelers
Furry Travelers, Inc.® is a family owned and operated company committed to providing innovative pet accessories that make traveling with pets safe and convenient. Owner, Nancy Cribb is the inventor of the To Go Bowl travel bowl for pets.