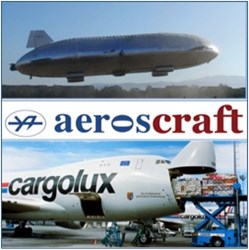 We're excited to work with Cargolux in expansion of their already impressive service capabilities to provide new delivery alternatives for both project and general cargo clients throughout Cargolux's extensive network serving more than 50 countries
Los Angeles, CA and Luxemberg (PRWEB) December 12, 2013
Aeroscraft Corporation (Aeros), the innovator of a new variable-buoyancy cargo airship known as the Aeroscraft, and Cargolux Airlines International S.A (Cargolux), the leading air cargo carrier in Europe, have signed a memorandum of understanding.
Cargolux and Aeros are working together to explore a strategic partnership that provides new vertical airfreight logistical services and intermodal standard container transportation solutions. The two aviation leaders will explore the benefits and structure surrounding utilization of the Aeroscraft's capabilities to provide air transportation and logistics services throughout the European and North African regions, and beyond.
The Aeroscraft will solve many current logistical problems through its vertical take-off and landing (VTOL) capability for heavy and outsized cargo, and ability to transport ISO containers vertically.
The Aeroscraft fleet ultimately augments air cargo distribution to new destinations throughout the world.
The new partnership with Aeroscraft will allow Cargolux to:

Continue a 40-year history of innovation by becoming a launch partner for the Aeroscraft 66 short ton (ML866) and the Aeroscraft 250 short ton (ML868) models
Evaluate the benefits of offering access to Aeroscraft vertical lift logistics services to global partners and strategic clients
Take advantage of priority in the availability of the Aeroscraft service and operational fuel savings
"Cargolux is pleased to sign this memorandum of understanding with Aeros and excited to further explore client solutions surrounding the introduction of this innovative new type of aircraft," adds Richard Forson, Cargolux's Interim President & CEO.
Similarly, the new partnership will allow Aeroscraft to:

Gain access to Cargolux's leading airfreight network in Europe and the surrounding regions
Leverage Cargolux's extensive project and general cargo expertise supporting operations
Gain access to Cargolux's network and expertise in providing maintenance services to support the Aeroscraft's European operations
"As the European leader in air cargo and project cargo logistics, Cargolux is an natural partner for Aeros' while introducing a new global point-to-point network for air cargo delivery," explains Igor Pasternak, CEO of Aeros. "We're excited to work with Cargolux in expansion of their already impressive service capabilities to provide new delivery alternatives for both project and general cargo clients throughout Cargolux's extensive network serving more than 50 countries."
Cargolux is a dedicated cargo airline and the leading air cargo carrier in Europe offering tailor made services to customers worldwide by leveraging expertise, reliability, and flexibility. Cargolux has grown over 40 years through sustained attention to customer needs to become Europe's biggest all-cargo airline, now specialized in delivery of general cargo, perishables, outsized and heavy project cargo, and temperature sensitive goods, among others. In 2012, Cargolux carried 645,759 tons of cargo on its worldwide network; the airline operated one of the youngest fleets, including 11 Boeing 747-400F and six 747-8F aircraft as part of its growing fleet at the end of December 2012.
Aeros' newest vehicle, the Aeroscraft, will deliver opportunities for business and consumers globally through access to remote locations, and by its new VTOL cargo delivery capabilities. Aeros plans to have the first if its initial fleet of 22 vehicles ready for operation in 2016, in two different classes; the 66-ton capacity ML866 with a range of up to 3,100 nautical miles and the 250-ton ML868 with a range exceeding 5,000 nautical miles. This fleet will operate on an ACMI lease model, providing services including aircraft, crew, maintenance, and insurance.
The proof-of-design technology demonstration vehicle for the Aeroscraft was successful in establishing its internal variable buoyancy technology in January 2013, known as COSH or control-of-static-heaviness, and the advanced prototype demonstrated integration of this key technology with other innovative sub-systems during flight operations in the fall of this year. The demonstration of technological maturity now leads Aeros into fleet development for two configurations of the innovative aircraft this decade, a smaller 66-ton capacity vehicle (ML866), and a larger 250- ton capacity vehicle (ML868).