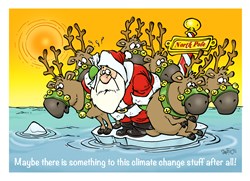 "Everyone loves to get a card that generates a good laugh. This year our Christmas card illustrates the dilemma global warming could present to Santa and his reindeer," - David Mahmood, Chairman/Founder Allegiance Capital Corporation
Dallas, TX (PRWEB) December 12, 2013
Santa Faces Up to Global Warming Issue
Holiday cards are quite popular in the U.S. Hallmark estimates that approximately 1.5 billion cards will be exchanged this year. That is almost a billion more than the number of active registered Twitter users.
Consumers and businesses spend tens of millions of dollars trying to create that "Hallmark moment" we all dream about. Nearly three-fourths of consumers say they send Christmas cards because they know it feels good to receive them.
However, most cards are generic and about as exciting as getting a $5 gift card from your Aunt who doesn't know what to buy you. Each year, Allegiance Capital Corporation, one of the largest middle-market investment banking firms in the U.S., takes an unconventional approach to ensure that its holiday cards stand out from the crowd and truly deliver a humorous "Hallmark moment."
"Everyone loves a card that generates a good laugh," comments David Mahmood, the Founder and Chairman of Allegiance Capital Corporation. "Each year, we create a custom, cartoon holiday card that features Santa facing a current issue.
"This year's Christmas card illustrates the dilemma global warming could present to Santa and his reindeer. As a leading financial firm, working with middle market companies, we believe it is important to stay on top of issues that could impact our clients. However, we also believe we can have some fun with current issues too."
"Humor is a great way to tackle tough issues that some people won't, or don't like to talk about," Mahmood continues. "Allegiance Capital has created approximately 50 cartoons that provide insight into some of the issues privately held businesses face during the M&A process. If an owner can see themselves in a cartoon, it breaks the ice and makes it easier to discuss tough issues," says Mahmood. Allegiance Capital business cartoons are featured on the website.
The 75-year old Mahmood believes in the power of laughter. "The world is a tough place these days. Whether it's the economy, the environment or other issues, I have learned that a good laugh is the best way to get through whatever comes your way. We hope our Christmas card delivers joy this holiday season and helps our clients and others laugh a little about the issues they face every day."
About Allegiance Capital Corporation
Allegiance Capital Corporation is an investment bank specializing in financing and selling businesses in the middle market. Allegiance Capital Corporation was recently named to American City Business Journal's distinguished list of Who's Who in Energy 2013, in addition to being named third on the list of 2011 Largest Investment Banking Firms in North Texas by the Dallas Business Journal. Allegiance Capital Corporation has won multiple awards recognizing the value it delivers to clients, including 2009 Dealmaker of the Year (Dallas Business Journal), 2008 Boutique Investment Bank of the Year (M&A Advisor), and 2006 Investment Bank of the Year (Dallas Business Journal). Subscribe to the Capital Ideas blog by visiting http://www.allcapcorp.com/blog. Follow Allegiance Capital Corporation on LinkedIn and Twitter: @ALLCAP.