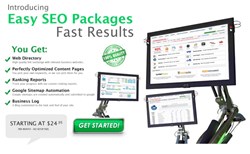 "I've been a loyal customer of blackwoods for years they've always steered me in the right direction and helped me with business ideas they work with clients on a level I have never seen" - Jim Chenier
(PRWEB) December 13, 2013
Blackwood Productions Sean Kingston says, contrary to some reports that say SEO is dead, search engine optimization will continue to matter.
"SEO is all about making websites accessible to users," Kingston says. "That's never going to go away."
What has changed, he says, is manipulating search to net top spots on SERP. The focus of Internet marketing is on quality, and search engines have a zero tolerance for duplicate content, thin content and spammy links. And with that, Blackwood Productions shares its predictions for SEO in 2014.

Quality content surpasses keywords in importance to SEO results: Well-written and original content that is relevant to your websites will help your search results more than keywords. In fact, Google's latest algorithm nicknamed Hummingbird is designed to search long-tail or search queries. Should you stop focusing on keywords? No. Developers are trying to make SEO technology think like humans, but keywords are still relevant.
Conversational search booms: Speaking of long-tail search queries, with mobile smartphones and voice-driven searches becoming the norm for the way users look for information, search algorithms will continue to become smarter and adapt to human speech.
Authority becomes the new "rank": Google hasn't updated its page ranks since February 2013, and even though some digital marketers focus on rank, it's becoming a thing of the past. Authority is an aggregate of a number of factors, including inbound and outbound links, and is used to compare site performance to other sites.
Links still matter: The better the inbound and outbound links, the better your site's authority and the higher it is likely to appear in search results. If you aren't monitoring or managing your backlink portfolio, considering turning that task over to an Internet marketing business. It will stay on top of the latest changes in search and make sure your links and site is always optimized.
Authorship and snippets grow: Google owns more than 60 percent of searches, so what it does sets the industry standard. Google Authorship will continue to matter as the company continues to push content managers toward high quality content.
Demand for UX/UI professionals will increase. As search shifted away from the mathematics of "how many times can I stuff a keyword on this page" and more toward "how can I create high quality content that's relevant to my keywords," user experience and user interface will become even more important. One study showed a growth rate in STEM jobs at three times the rate of non-STEM jobs and an increase of 17 percent through 2018.
SEO companies become more like agencies. Content marketing is all about making personal connections with your audience through an online market. Consumers want to feel connected to you, your products and services, and your staff. Internet Marketing Companies need to think that way, too. One-size-fits-all thinking doesn't work; consumers are smarter than that, and they want to feel like you understand them and can solve their problems.