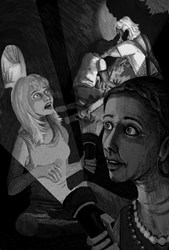 "One picture is worth a thousand works." Confucius
Massapequa Park, N.Y. (PRWEB) December 17, 2013
"The Madonna Ghost" and "Girl with Pencil, Drawing" are now available in illustrated editions.
Teen author, Linda Maria Frank, gives the reader the added enticement of pictures that have the reader probing for details that will enable them to figure out the mystery before they reach the end of the book.
In The Madonna Ghost Annie Tillery sets out with her NYPD Aunt Jill for a vacation on beautiful Fire Island. She meets Ty Egan, setting the stage for a sweet little romance Together they set out to investigate an eerie ghost from a shipwreck on the island. As the tale of the ghost unfolds, Annie and Ty stumble upon a diabolical plot that impacts national security, threatening the life of Annie's aunt. This story has it all; mystery, romance, beach adventures and a thrilling plot.THE MADONNA GHOST has earned the distinctive "Editor's Choice" and "Rising Star" from iUniverse.
In Girl with Pencil, Drawing girl detective, Annie Tillery, wins art lessons at a glamorous N.Y. gallery. When the director of the gallery is found murdered, the prime suspect is Annie's instructor, Francesca Gabrielli. While tracking the murderer, all the clues lead to a mysterious brownstone in Brooklyn, where they uncover a ring of art forgers and thieves, who will stop at nothing to protect their fabulous enterprise. Annie and Francesca face death by fire and water in the thrilling conclusion. It's a case of Nancy Drew meets CSI.
About Linda Maria Frank:
Frank's life-long career has been in teaching. She taught science, ending her career in the high school as Department Chairperson, teaching biology, chemistry and forensic science. She went on to teach at Hofstra University, forensic science and biotechnology, also supervising science student teachers at Adelphi University. Presently. Frank has written and now markets her Annie Tillery Mysteries, a series for girls of all ages. Find lesson plans for the books on http://www.annietillery.com. She now produces a TV show, The Writer's Dream, on LTV-EH, a local access station in East Hampton, as well as Long Island Cablevision. She interviews guests who are involved with writing, publishing and marketing in all genres. Her goal is to find venues to help market her books to schools and libraries, eventually gaining entrée into film and television, hoping for the big or little screen, not just Kindle and Nook. Also find Annie Tillery Mysteries on digital audio at audible.com