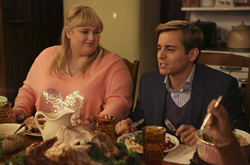 And I get that, but in England, it's almost that we have to have that dark element running parallel to the comedy. We're just so dark we can't let ourselves laugh for a half an hour and be guilt free.
(PRWEB) December 12, 2013
'Super Fun Night's Kevin Bishop recently opened up to TVRage.com's Senior Writer Anthony Marcusa about his latest role on Rebel Wilson's ABC comedy, the special holiday episode, what it's like working with a diverse cast, and how he feels about not playing an American on the small screen.
Here's an excerpt from the interview:
"TVRage: What's particularly fascinating with 'Super Fun Night' is the diversity in the cast. How does that contribute to the attitude on set and to the comedy on screen?
Kevin Bishop: Well, we have Rebel [Wilson] and Kate [Jenkinson] who are Aussies. Lauren [Ash] is Canadian. There is me, who's British, and we've got one American in Liza [Lapira]. I think it really helps. I think people, especially British people, when they are away from home, they behave very well. They're much less arrogant, much more polite, and that's why we have such a lovely time, because no one is being a diva.
TVRage: Until you settle in for a good run on the series?
Bishop: Oh god, then they'll lose their minds and start asking for ridiculous thing, but for now we can just enjoy ourselves and be humble and grateful. But yeah, obviously, Seasons 8, things will get pretty crazy.
TVRage: Another interesting aspect of the series is that you don't change your accent, correct?
Bishop: I do have to change it a bit. My real accent isn't quite the same as Richard's, but you may not be able to hear it as an American.
It's a very different character than I normally play. Richard is very pushy, upper middle class, while I am working class. I didn't go to boarding school, whereas Richard did from age four or five. A lot of Americans think that all British people are like that, all like Richard, when in fact there is a very small percentage. We're talking about one or two percent of the nation that are actually like Richard, and the rest are pretty normal.
So I was always really interested in playing one of those characters. I based Richard very much on close friend of mine who I write with, and I'm just fascinated by his story. So, when we were first in the room with the show, I was telling the writers his story, and that's how we developed the character."
'Super Fun Night' airs Wednesday's at 9:30/8:30c on ABC.