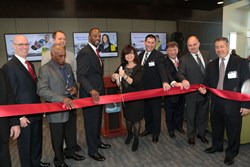 "Signature Newark provides businesses and private individuals new opportunities to make New Jersey their home,not simply through the extensive resources and services they provide, but also through their state-of-the-art facilities," said Lt. Gov. Guadagno
Newark, NJ (PRWEB) December 13, 2013
Signature Flight Support Corporation, a BBA Aviation company, hosted a grand opening and inauguration ceremony today to celebrate the completion of its newly constructed private aviation terminal at Newark Liberty International Airport (KEWR) which opened for business on November 15, 2013.
Signature Newark is a state-of-the-art terminal promising world-class flight support services for private air travel. The new facility has a footprint of 510,000 sq. ft. of ramp space, 39,000 sq. ft. of hangar, and a new passenger terminal spanning 11,200 sq. ft. Designed and constructed to meet U.S. Green Building Council's LEED Gold Certification standards, the facility features new energy-efficient lighting and environmental control systems.
The new terminal features amenities to complement the efficient transit of passengers and crew to and from the aircraft. Signature Newark features an executive conference room, free use of computers, wireless Internet services, 24-hour courtesy shuttle service to airport-area hotels and the commercial terminal, wheelchair access, a lobby area with comfortable modern seating, a large flat-screen TVs. A separate, dedicated lounge area provides privacy for customers, groups and specialty aircraft charters that can accommodate uniquely customized services to exceed customer expectations.
"Signature Newark is a perfect example of the private and public sector working together to create an environment where new infrastructure, jobs and economic growth can thrive in Newark and the State of New Jersey," commented Maria Sastre, President and Chief Operating Officer, Signature Flight Support Corporation. "We thank the State of New Jersey, The Port Authority of New York & New Jersey, Newark Liberty International Airport and the City of Newark for their support of this project. We are proud to be a longstanding member of the Newark and greater New Jersey communities."
"Signature Newark provides businesses and private individuals new opportunities to make New Jersey their home, not simply through the extensive resources and services they provide, but also through their state-of-the-art facilities," said Lt. Governor Guadagno. "New Jersey is proud to welcome the new terminal, their staff and their new clients to our state."
Signature Flight Support has had a presence through its predecessors at Newark Liberty International Airport since 1962 when it was known as Newark Air Service which became Butler Aviation before being eventually acquired by Signature Flight Support in 1992. During the inauguration ceremony, Signature Newark's longest tenured employee, Eddie Queen, Line Service Technician, was honored for his 58 years of service to the company.
Signature Flight Support, a BBA Aviation plc company, is the world's largest fixed-base operation (FBO) and distribution network for business aviation services. Signature services include fueling, hangar and office rentals, ground handling, maintenance and a wide range of crew and passenger amenities at strategic domestic and international locations. Headquartered in Orlando, Florida, Signature currently operates at more than 100 locations in the United States, Europe, South America, Africa and Asia. For more information, please visit: http://www.signatureflight.com or on Facebook at http://www.facebook.com/signatureflightsupport. Follow Signature Flight Support on Twitter: SignatureFBO
BBA Aviation plc is a leading global aviation support and aftermarket services provider with market leading businesses and attractive growth opportunities. BBA Aviation's Flight Support businesses (Signature Flight Support®, ASIG® and Signature TECHNICAir™) are focused on refueling, ground handling and/or maintenance of business and commercial aviation aircraft. Its Aftermarket Services and Systems businesses (Dallas Airmotive, Premier Turbines, H&S Aviation, International Turbine Service®, Barrett Turbine Engine Company, International Governor Services, Ontic®, and APPH®) are focused on the repair and overhaul of jet engines and the manufacture and services of aerospace sub-systems and components. For more information, please visit http://www.bbaaviation.com.