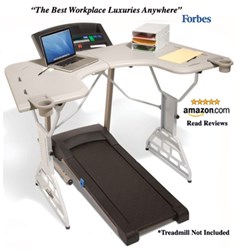 18% of America's GDP is spent on medical care yet less than 5% of this amount is spent on preventative health measures,
Phoenix, AZ (PRWEB) December 12, 2013
A 35-year study conducted by Cardiff University's School of Medicine has added to the body of evidence proving that exercise healthy lifestyles can dramatically lower the risk of developing dementia later in life. Regular daily exercise was found to be a critical component to reducing this risk which has been projected to increase 300% in the next two decades alone. At a time when developed nations are becoming more sedentary the challenge is deploying methods that will encourage more physical activity. TrekDesk Treadmill Desk offers a unique solution to the problem.
Designed to fit any existing treadmill, TrekDesk treadmill desk is an affordable, full sized, height adjustable workstation that allows individuals the opportunity to gain the necessary amount of daily exercise to lose weight, maintain health, reduce stress, prevent disease, strengthen muscles, boost mood and productivity, without requiring additional time during the day or extra motivation.
The study, published on the Cardiff website, was compiled from the Caerphilly Cohort Study which recorded the health behaviors of 2,235 men aged 45-59 in South Wales designed to chronicle the relationship between healthy lifestyles and the risk of cognitive decline and chronic disease over a 35-year period. The study found that those who exercised regularly, did not smoke, maintained a low bmi, low alcohol intake and healthy diet regimen had a 60% lower risk for dementia and 70% lower risk for stroke, diabetes and heart disease compared against study participants who did not adhere to the regimen.
"The size of reduction in the instance of disease owing to these simple healthy steps has really amazed us and is of enormous importance in an aging population," related Professor Peter Elwood from Cardiff University's School of Medicine. "What the research shows is that following a healthy lifestyle confers surprisingly large benefits to health -- healthy behaviors have a far more beneficial effect than any medical treatment or preventative procedure.
Follow up surveys found however that merely 1% of adults in Wales adhered to these health guidelines. In the United States the results are similar leading to chronic obesity and health maladies.
"18% of America's GDP is spent on medical care yet less than 5% of this amount is spent on preventative health measures," stated Steve Bordley, CEO of TrekDesk Treadmill Desk. "We need to provide people with the tools, work environment and information that equips them to win this battle against increasing levels of chronic disease and obesity."
Join the TrekDesk "Movement Revolution" to learn more, spread the gospel regarding movement, or win a free TrekDesk http://www.facebook.com/trekdesk, or follow TrekDesk on twitter http://www.twitter.com/trekdesk. TrekDesk treadmill desk is currently available for sale online at http://www.trekdesk.com.