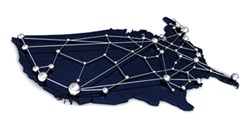 A worldwide network of local depots designed to get parts to your customers quickly, reliably and cost effectively. 24 hours a day, 7 days a week.
New Hyde Park, NY (PRWEB) December 18, 2013
Associated Global Systems (AGS), one of the leading U.S. based transportation and logistics providers, has been an innovator in providing dependable and cost-effective delivery of parts and replacement components to customers, distributors and field technicians throughout the U.S. and overseas.
AGS' newly expanded parts management program allows for the stocking of parts in their established worldwide network of depots. Customers pay for only the space used and get 24/7/365 delivery coverage. The time-consuming task of inventory control and parts distribution is handled completely by AGS, freeing customers up to focus on their core business. Critical parts can be stocked in any of AGS' 400 depots with four levels of local delivery times available.
AGS also provides state–of-the-art inventory management and shipment tracking technology, supported by a 24/7 Call Center. And now AGS will assign a management team to work with a customer in the design, setup and ongoing management of their parts storage, delivery and return program.
New York based AGS, founded in 1958 also provides time definite delivery of products without size or weight limitations to business and residential locations along with a complete menu of inside White Glove delivery services. With more than 125+ offices in North America and agents in 196 countries, they take the worry out of your urgent domestic and international shipments. Their unique "Whatever it Takes" brand of service has earned recognition for service and quality.