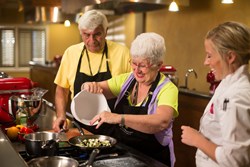 The active life is becoming our life. - Linda Ferrigno
Hilton Head Island, SC (PRWEB) December 13, 2013
Linda and Vince Ferrigno of Jacksonville, FL, first visited Hilton Head Health (H3) weight loss resort in May 2013 as a way to jump-start their new healthy lifestyle. Little did they know that in seven short months they would lose weight, improve their blood work and develop better fitness.
"Hilton Head Health changed our lives. We have smaller waistlines, lower cholesterol, triglycerides, fasting glucose, blood pressure, BMI and body fat percentages," says Linda. On the Ferrigno's first stay they visited for only 3 days, but on their two following visits they stayed a full week. On their most recent stay they even brought along their three adult daughters. "It was the best vacation ever," says Linda.
"The change is so much deeper than all of these wonderful numbers," commented Linda. In the classes the Ferrigno's learned about proper nutrition and the psychology behind healthy living. "We are preparing delicious, healthy food at home and no one would ever label any of it 'diet food'," says Linda.
"I ran my first race in over 20 years," declared Linda. "The active life is becoming our life," she continued. The Ferrigno's have walked more than a million steps and Vince, who's bad knee had hampered him in the past, has found exercise, that he can now do consistently. "For the first time in our lives, we are part of our own team," says Linda.
To learn more about the Ferrigno's story or Hilton Head Health contact Adam Martin, H3's Brand Manager.
About Hilton Head Health:
For over 35 years, Hilton Head Health has been recognized as the premier weight loss and health retreat in the United States. Most recently, Hilton Head Health was featured on A&E's weight loss docudrama HEAVY, which aired in spring 2011. Voted as "Best for Weight Loss" for the past five consecutive years by SpaFinder and "Top 5 US Health Spas" by Lisa Drayer on the Today Show, Hilton Head Health is an exclusive resort delivering individualized experiences in the areas of Fitness, Nutrition and SELF (Stress management, Empowerment, Longevity, Fulfillment). For more information, please call 800-292-2440.