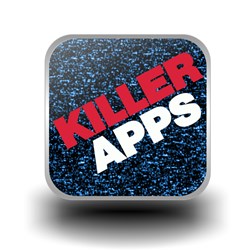 "Many people tend to look at technology gifts as a long-term investment," says Brett Larson, "It's important to look for items that will be used frequently and fit the personality of the gift recipient."
West Palm Beach, FL (PRWEB) December 13, 2013
Gift-giving during the holiday season is a lot different than it used to be. Gone are the traditional gifts, instead, tech gadgets are now considered the number-one gifts of choice. Shoppers are looking for everything from home electronics to mobile technology and everything "techie" in between.
Brett Larson, Emmy Award winning Tech and Trends reporter and host of the KillerApps.tv website, recently showcased his latest hot tech gifts for the holidays and offered some advice. "Many people tend to look at technology gifts as a long-term investment," says Larson, "It's important to look for items that will be used frequently and fit the personality of the gift recipient."
Here are 5 featured "Killer Apps" to gift this 2013 Holiday Season.
1. From LG Electronics, enjoy excellent picture quality and direct access to your favorite movies, videos and games with their LG 55LA7400 Smart TV. The fun and intuitive Magic Remote with voice capability makes it easy to search and select content and control the satellite or cable box. Visit http://www.lg.com/us/tvs/lg-55LA7400-led-tv for more information.
2. Hewlett-Packard brings you the HP Spectre13 Ultrabook featuring a stunning design combined with breathtaking performance, the HP Spectre13 Ultrabook weighs just 3.25 pounds, and offers a 13.3-inch full HD touchscreen display and an Intel 4th generation Core i processor in a package that boasts up to nine hours of battery life. To learn more visit http://www.HP.com/Holiday.
3. Amazon,com. At just $229, Kindle Fire HDX is the perfect gift for the entire family and features a stunning exclusive 7" HDX display, a quad-core 2.2 GHz processor, 2x more memory, and 11 hours of battery life, as well as exclusive new features of Fire OS 3.0 including X-Ray for Music, Second Screen, Prime Instant Video, and the revolutionary new Mayday button.
4. Master Lock 5900D SafeSpace. This portable, personal safe provides consumers with protection for high-tech gadgets they might receive this holiday season, including smartphones, cameras, mp3 players and more to keep valuables safe while socializing or on-the-go. The oval-shaped, foam-lined case features an integrated cable that can be securely anchored to a fixed object or used as a handle for convenient carrying. For more information visit http://www.MasterLock.com.
5. The compact PEAK 150 Watt Cup Holder Mobile Power Outlet converts your vehicle's power source to 1 standard household AC power outlet when plugged into any cigarette lighter. The PEAK Rechargeable Halogen 1Million spotlight is a cordless spotlight that is perfect for camping, working on your car or in an emergency. For more information on these great products and more visit http://www.peakauto.com.
To find more information about everything featured, visit "Killer Apps" at http://www.killerapps.tv.
About News Media Group, Inc.
News Media Group, Inc. produces original programming about the hottest new technology and trends hitting the market through the KillerApps.TV website. They produce a number of Satellite Media Tours and Ground Media Tours that fit the media calendar throughout the year to introduce TV and Radio station audiences to the latest tech products and applications. They also produce the "What's #Trending Now" web series through wtnshow.com and inthenews.tv sites. Visit http://www.newsmg.com.
Contact:
News Media Group, Inc.
Jennifer Rivera
jrivera(at)newsmg(dot)com