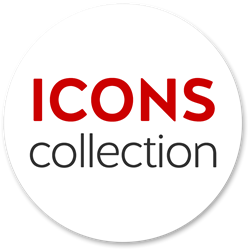 The Icons Collection makes the power of great design available to consumers everywhere.
Los Angeles, California (PRWEB) December 16, 2013
Lamps Plus announces the Icons Collection, a new line of lighting featuring lamp shade patterns designed by five leading designers. Available exclusively through Lamps Plus, the initial launch of this stylish lighting collection features patterns by designers Toby Fairley, Christopher Kennedy, Made by Girl, Mr. Kate, and Woodson & Rummerfield's House of Design. Each pattern is also be available for consumer customization through Lamps Plus' unique online Design Your Own tool, which allows consumers to create their own lighting fixtures and lamps by selecting personalized color combinations for use with a variety of base styles.
Ranging from $69.99 for the lamp shade only to $299.99 for a brushed steel finish pendant light, the Icons Collection exemplifies Lamps Plus' expanding mission to offer consumers access to high-end design at an everyday value. The Icons Collection is available exclusively at LampsPlus.com and through in-store kiosks at all Lamps Plus store locations.
"We are excited to be partnering with these designers who exhibit a signature 'iconic' style," says Manja Swanson, Chief Creative Officer for Lamps Plus. "Additionally, by providing consumers complete access to customization, guided by the patterns of these prominent designers, the Icons Collection makes the power of great design available to consumers everywhere."
Each Icons Collection shade is custom printed using fine-art quality inks in Lamps Plus' patented Giclée printing process. The patterns are available in 16 color combinations across 9 standard base options, including floor and table lamps as well as a variety of ceiling light fixtures. Furthermore, customers can specify their own custom color combinations using Lamps Plus' Design Your Own feature, for hundreds of possible options. Each Icons Collection item is hand-assembled at the company's California headquarters. Customers can expect to receive their designs usually within 3-5 business days of ordering.
Currently the Icons Collection consists of the following designers and patterns:
Toby Fairley
"This lattice of interlocking grids and circles poses a beautiful balance between strength and grace," explains interior designer Toby Fairley, about her Bamboo Trellis lighting collection for the Icons Collection. "I love how it looks almost classical yet still very current and chic." The pattern exudes the Southern warmth and grace of this Little Rock-based designer.
Christopher Kennedy
This looping Infinity lighting collection pattern reflects the easy elegance of Palm Springs-based interior designer Christopher Kennedy. "I'm thrilled to partner with Lamps Plus, a company which is known for making high-style attainable and has long been one of my go-to sources," explains Kennedy. "My Infinity pattern is inspired by Palm Springs' glamorous past. I love modern design, but at the same time, I'm also a bit nostalgic – I yearn for a simpler time of grace and manners, when life was just a bit slower and families sat down to dinner together."
Jen Ramos of Made by Girl
"I wanted to partner with Lamps Plus because lighting is such an essential part of my own home décor and a great way to accessories any space," says the New York-based trendsetter Jen Ramos, founder of the Made by Girl shop and blog. For her Chevron Ikat lighting collection, Ramos explains, "My inspiration for my design was the popular Ikat print, but with a little edge to it."
Kate Albrecht of Mr. Kate
"Light and whimsy is something I always try to bring into people's homes when I decorate," says Los Angeles-based designer Kate Albrecht. "Teaming up with Lamps Plus was the perfect opportunity for me to bring my passion for lighting and hand-drawn patterns together in the prints I created for my collection." Albrecht's Lines lighting collection "was inspired by tribal shapes and lines which – when on a shade and backed by light – add a fun statement to any space."
Ron Woodson and Jaime Rummerfield of Woodson & Rummerfield's House of Design
These two iconic Hollywood interior designers have decorated homes for some of the world's most recognizable names. Their Marbleized lighting collection patterns were inspired by the intricate patterning found on vintage leather-bound book covers. "Some of our favorite old Hollywood rooms are libraries. There is something comforting about curling up with a good book," explains Jaime Rummerfield of the design duo. "Behind every great leather bound cover not only lies a great story but a beautiful and unique marbleized pattern paper lining."
Swanson sums up the partnerships in the Icons Collection: "We're delighted to work with such a talented group. This collection makes it possible for our customers to bring an exceptional and diverse mix of on trend lighting into their homes."
To see each designer's pattern, now available, log on to LampsPlus.com.
About Lamps Plus
For more than 30 years, Lamps Plus has been synonymous with excellence in the retail lighting industry. Established in 1976, Lamps Plus is the nation's largest specialty lighting store, with more than 40 superstores throughout the western United States. In 2013, LampsPlus.com was named a Top 10 Housewares/Home Furnishings e-tailer and a "Hot 100" world's best retail website by Internet Retailer Magazine. Together with its retail locations, the company serves customers nationwide with the largest selection of functional and decorative lighting fixtures, accessories, furniture and home decor. This selection includes hundreds of products, ranging from traditional chandeliers to the latest in home decor, available exclusively from Lamps Plus. The company also holds several patents for innovative lighting. Services offered include in-home lighting consultations, in-store workshops and installation from expert, licensed electricians. American Lighting Association certified designers are available to offer product recommendations and advice in all our stores, by phone or online at LampsPlus.com. The Lamps Plus family of websites also includes 55 Downing Street, Lighting Luxury Style, Builders Discount Lighting, and Lamps Plus Open Box. Visit the official Lamps Plus website: LampsPlus.com.