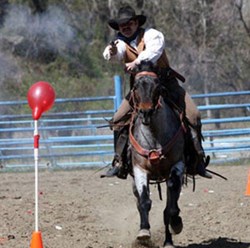 Duncan, OK (PRWEB) December 17, 2013
The Cowboy Mounted Shooting Association was to bring "Revolvers and Rhinestones" to the indoors of the Stephens County Fair and Expo Center in Duncan, OK on December 20, 21 and 22nd, 2013. The event is cancelling due to the incoming inclement weather.
Event organizer, Donna Rankin, apologizes for any inconvenience this may cause but states that the safety of all those who would need to travel to be a part of the event is of the utmost in priorities. The event hopes to reschedule for 2014.
For vendor information, contact Donna at 402-419-0191 or rankinds(at)esrthlink(dot)net. For general information, contact The Duncan Convention and Visitors Bureau at 800-782-7167 or visit http://www.duncancalendar.com.