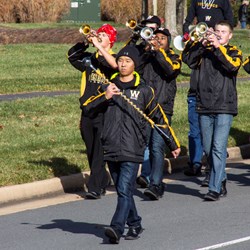 The opportunity to represent the school, county and state is a huge honor and one that we take very seriously.
Chantilly, Virginia (PRWEB) December 13, 2013
The Westfield High School Marching Bulldogs will rehearse through the streets of Chantilly's Avion Business Park on Saturday, December 14, (rain date December 15) for a final run-through before performing in the Rose Parade® – "Dreams Come True" – on New Year's Day. The community, which helped tremendously to support the band during what has been more than a year of preparations since it was accepted for this honor, can catch a glimpse of the Pasadena-bound Bulldogs from 9 a.m. to noon as they rehearse down Virginia Mallory Drive and Avion Parkway, located off of Route 50.
The Saturday rehearsal kicks off a week of final preparations before the 275 students and 40 accompanying chaperones, as well as 310 friends and family members, head for Pasadena, California, on December 27 & 28. The parade airs live at 11 a.m. EST on January 1, 2014, on HGTV as well as locally on WJLA (Channel 7) and WNBC (Channel 4). Westfield is one of only 12 high school bands to be selected for the 2014 Rose Parade and is only the third Virginia public high school to march in the Parade in its 125-year history.
During their triumphant, 5 ½-mile-long march down Pasadena's Colorado Boulevard, the Marching Bulldogs will deliver "Dreams Come True March", a "Patriotic Parade" sequence, and "Dynamite." The band also has been hard at work perfecting the Nickerson Turn, a precise way to "fold" the 275 band members around the 110-degree corner at Orange Grove and Colorado Boulevard.
The challenging turn is named after Fred Nickerson, a former Ohio State University band member who developed the technique in the late 1960s as a better way to navigate the famous "TV corner." Today, says Westfield Director of Bands Stephen Panoff, its roots reside in every military marching manual, especially for the Marine Corps. It's challenging for a large band to execute the tricky turn, which includes counting each step so the band appears as if it's going to march off the parade route and then "folds" on a 45-degree angle into itself and comes out of the corner in formation.
"Most bands usually use what is called a 'gate turn' to navigate the turn at the TV corner in the Rose Parade," says Panoff. "The Nickerson Turn requires a lot of extra practice and attention to detail, but – hopefully – it will result in a unique visual treat for parade viewers."
Use of the Avion Business Park will give the Marching Bulldogs a final chance this Saturday to simulate the parade route and perfect their show sequence. The band is grateful to Trammell Crow Company and CBRE real estate services company for facilitating use of the Park.
As he leads the Westfield band into this final countdown to the Rose Parade, Panoff reinforces that "the opportunity to represent the school, county and state is a huge honor and one that we take very seriously." Indeed, he says, "all of the kids, parents and staff are very excited. To everyone in the community who has helped to make our Dreams Come True, we say 'thank you!'"