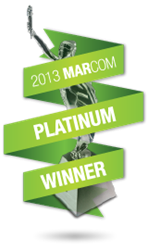 Roanoke, VA (PRWEB) December 13, 2013
The Oscars. The Golden Globes. The Grammy Awards. It's that time of year, and it's no different in the world of communications and public relations. It is awards season for just about every field of endeavor, and the laurels are being presented to the best and brightest.
Recently, American National University received recognition from two prestigious organizations: the Association of Marketing and Communications Professionals (AMCP) and Bulldog Reporter. Two articles from the "National News" were honored with AMCP's MarCom Awards, while the newsletter as a whole received recognition with a Bulldog Digital/Social PR Award.
"We are very pleased to be the recipient of these prestigious awards for the 'National News'," said Jill Sluss, publications editor for American National University. "It definitely sets us apart from other publications as the winners were chosen by working journalists and communications professionals and the entries consisted of all types of promotional campaigns throughout the country."
Receiving a Platinum MarCom Award in the feature-writing category was the article "Full Circle: ANU Signs Agreements with Vietnamese Universities" while a Gold MarCom Award was earned for "Veteran Loves Helping Other Veterans." The "National News" was also the Honorable Mention recipient in the Best Organizational E-Newsletter External category in the Bulldog Digital/Social PR Awards competition - one of just 79 honorees across 27 categories.
"The National News team feels so lucky to be able to share our graduates' success stories in the pages of the newsletter each week," said Debbie Burke, regional communications specialist and Gold MarCom Award recipient. "I am proud to receive the MarCom Gold Award in their honor."
Since its inception in 2005, the "National News" has garnered a total of four MarCom Awards (two Platinum, one Gold, and one Honorable Mention); five Public Relations Society of America Summit Awards (two Gold, three Silver); and one Bulldog Digital/Social Award.
Founded in 1886, American National University and National College are dedicated to the training and education of men and women for a full life and a successful career in a number of fields in business, computers, and health care. The partner institutions offer more than 45 academic programs including a master of business administration, numerous degree and diploma programs, English as a Second Language, and corporate training. Serving 31 communities through campus locations in Virginia, West Virginia, Tennessee, Kentucky, Ohio, and Indiana, American National and National College currently serve approximately 7,000 students annually.