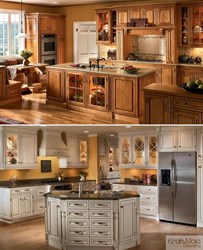 Save 20-50% off of a kitchen remodeling project through DirectBuy of Indianapolis.
Indianapolis, Indiana (PRWEB) December 17, 2013
There are two types of modeling that will increase the value of a house: kitchen and bathroom.
DirectBuy of Indianapolis specializes in these remodeling projects and will be sharing details at two home shows in Indianapolis. The first show will be January 3-5, 2014 at the Indianapolis Convention Center and the second show will be January 24 through February 2, 2014 at the Indiana State Fairgrounds.
When remodeling a kitchen, there are three areas that one won't want to cut corners: cabinets, countertops and appliances. But focusing on mid to high end quality for these products might make it difficult to stay within budget, unless you are using the services of DirectBuy of Indianapolis.
Details have been shared through two different websites on the steps to remodeling a kitchen: kitchenremodel101.com and kitchenremodelindianapolisin.com. Both of these sites give great information to consider before starting a kitchen remodeling project.
One of the important items for the kitchen remodel would be the countertops.
DirectBuy of Indianapolis offers four different types of material for countertops. The final selection might be based on how much the homeowner wants to put into the maintenance, the budget set for countertops or the finished look that is desired.
DirectBuy offers a laminate countertop, which is a man-made laminated material wrapped over a MDF core. This option is affordable, has a wide variety of colors available, and the new styles are a granite look-a-like. One must be careful with this option as it can be scratched, will stain to items like coffee, koolaid or wine and might bubble if exposed to abundant moisture or with standing water.
Solid Surface is a 100% man-made acrylic surface. This is a seamless look in which one can integrate a sink or do an under mount sink. This material will scratch, but the scratches can be buffed out. It is also a non-porous material therefore it will not stain.
Granite is a very beautiful material that will give a kitchen a 'wow factor'. This material will not scratch, it is a natural stone, which means that it is porous. Because it is porous, it must be sealed every year to prevent bacteria/stains building in the pores.
The last material available through DirectBuy of Indianapolis for countertops is Quartz. Quartz is a natural rock cut from the earth, ground, and then re-compressed with small amounts of man-made materials. This countertop is scratch resistant, non porous so it will not stain and no maintenance required.
Besides great options for a countertop, DirectBuy of Indianapolis offers an in house kitchen design service, a list of experienced, quality installers and a savings of 20-50% off "sale" prices at the big box stores.
DirectBuy of Indianapolis invites consumers to a Free Savings Seminar to share details on how DirectBuy of Indianapolis can purchase items at direct manufacturing prices from over 700 suppliers. In many cases, consumers find they can purchase higher quality products at lower prices.
Schedule a Free Savings Seminar by calling (317)472-9810 before the end of the year and receive a VIP Package at the time of the visit. DirectBuy of Indianapolis is located at 8450 Westfield Boulevard which is close to the Range Line and Westfield Boulevard intersection. This is located just west of the Keystone Fashion Mall.