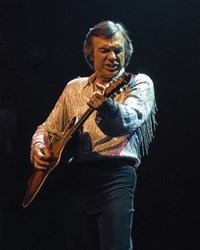 I'm thrilled to have the honor of continuing to entertain through Neil's music—it's the least I can do for a true legend!
Las Vegas. NV (PRWEB) December 13, 2013
Jay White, Las Vegas' longest running solo tribute act and Neil Diamond performer who was also cast as Diamond in the 2009 Oscar Nominated film Frost/Nixon, is set to continue performances in Myrtle Beach with "Legends in Concert" through December to continue captivating and convincing audiences with his unique baritone vocals after seventeen years of performing in over 7,000 shows on the Las Vegas Strip.
Since wrapping his show "Jay White: America's Diamond" at the Riviera in 2010, Jay and his band (including Diamond's percussionist King Errisson), continue to tour the US expanding their popularity by wooing existing Neil Diamond fans with incredible accuracy. Performing rock classics like "Cherry Cherry", "Sweet Caroline" and "America", they have also recruited new Diamond followers by recreating an uncanny 80's version of the Rock and Roll Hall of Fame inductee.
By popular demand, Jay is set to perform six days a week November 1st through December 31st with Legends in Concert in Myrtle Beach, with additional 90 minute shows with his band slated for southern California on November 23rd and Wisconsin on December 7th.
"Thanks to Neil's several awards and chart-topping hits, the popularity of his music continues to appeal to nearly every generation," said Jay. "I'm thrilled to have the honor of continuing to entertain through Neil's music—it's the least I can do for a true musical icon and legend!"
In addition to his busy performance schedule, Jay was also selected by Hollywood Director Ron Howard to portray Diamond in the 2009 Oscar Nominated film "Frost/Nixon", and it's no wonder, having also caused a recent media frenzy when he was confused for the real Neil at Princeton University Class reunion concert in June. Jay also causes frequent social media uproars when he's invited to sing the national anthem at ECHL games—then suits up to play backup goalie, serving as an on-call emergency goaltender in Las Vegas for roughly 20 years.
Jay also plans to debut his executive-produced musical derived from Neil Diamond classics entitled "Coming to America" in New York City on July 4, 2014.
For a full schedule of Jay's upcoming performances, visit http://www.americasdiamondlive.com. For booking considerations, call 702-458-1560 or email gpecoraro(at)cox(dot)net.
ABOUT JAY WHITE
Jay White is a professional Neil Diamond impersonator and Vegas' longest running "solo tribute act" who energizes theatres, casinos, corporate events and cruise ships with a touch of class and a dash of rock-n-roll. Since 1990 Jay White has been a permanent fixture on the Las Vegas Strip, spanning nine years with "Legends in Concert" where he performed in over 5,000 shows. He's also successfully staged over 500 corporate and private events for most Las Vegas casinos from the Mandalay Bay to the Riviera, where he's headlined over 2,000 shows. Clients & critics agree that Jay White's 2009 Hollywood movie debut in "Frost/Nixon" in which he was cast as Neil Diamond, his appearance with Neil Diamond, alongside his 25 years performing over 9,000 shows in 5 countries make him the most convincing tribute act worldwide. His every movement and every sound evoke the passion and the power of "America's Classiest Rock Star".
In 1996 and again in 2002, White met Diamond before his Vegas MGM appearances, where Neil autographed a photo of the two signing; "Jay, keep singing, so I can stay home and relax, your friend in music". In an interview, Diamond also commented on his tribute acts saying; "I've heard a few of them, but my favorite is Jay White from Las Vegas." From passionate crowds rushing the stage at corporate events, to hundreds of enthusiastic alumni at Princeton University, to the praises of some 14,000 screaming fans in several Salt Lake City performances, White is grateful that his years of hard work and dedication are still so convincing and so appreciated. His performance bears such a natural resemblance, that several Diamond family members were both enthused and amazed with his authentic and uncanny recreation.
For more information or to book Jay White for a corporate or private event, visit http://www.americasdiamondlive.com. Keep up with Jay on Facebook/ Twitter.