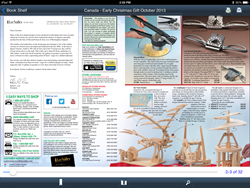 PDF based catalog reader App for iOS can be branded and white labeled.
Schaumburg, IL (PRWEB) December 17, 2013
Leading eBook& digital content solutions company eBooks2go, Inc. today announced launch of its new PDF based catalog reader App for iOS platform. Built for iPhone and iPad, the engine provides robust PDF rendering technology for displaying and annotating PDFs in iOS Apps.
The PDF Reader App comes with advanced features to render catalogs in a single or double page view retaining the exact look and feel of a printed catalog. The App has other rich features such as links to Table of Contents, Search, Smart Zoom, Internal Links, Hyper Links, Book Marks, side or continuous scrolling, Notes Highlights, Print, Social media sharing etc. The Thumbnails view also can be customized completely. The engine supports all common annotating types for PDFs with global undo/redo function.
eBooks2go, is offering this solution to customers as a white label and branded solution. This solutions is the easiest, fastest and most affordable way to launch branded store to either display product catalogs, sell books, journals magazines or product brochures.
The company has already secured handful of customers and recently released new catalog app reader for Lee Valley Tools, Canada. This app can be downloaded from Apple's App Store for iPhone and iPad.
About eBooks2go
eBooks2go is a leading eBook conversion and distribution house for Independent Authors and Publishers worldwide. The company also provides custom Mobile Application programming services to Publishing and Media companies worldwide. Some of the company products and solutions include custom eBook Apps, Catalog Reader Apps and Mobile eBook reader Applications.
The company also serves independent authors with full range of services that include Book Production, eBook conversion, marketing, sales and Royalties Management services. Founded in 2011 in suburbs of Chicago, IL as an imprint of Gantec Publishing Solutions LLC, eBooks2go is already serving over 2000 Authors and 150 active publishers and media companies worldwide.
MEDIA CONTACT
Jenny Sri
jenny (at) ebooks2go (dot) net