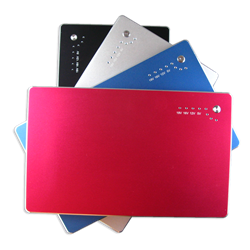 (PRWEB) December 13, 2013
The experts at Roving Power have noticed a distinct trend in portables chargers within the U.S. market. After years of tracking their strong take off in Asia, there are now signs that the products have taken hold in America.
Roving Power notes that in the U.S. 91% of all adults now have cells phones and 56% of those are smartphone users. Likewise, the tablet market has grown exponentially with 34% of Americans 18 years and older now owning one. Just a year ago only 18% of adults owned a tablet.
The influx of mobile devices has had a significant impact on the sale of portable chargers. Despite improvements in batteries for smartphones and tablets battery life is still one of the top complaints for users. The growing dependence on these electronics for personal and professional use, says Roving Power, means a loss of power is viewed more negatively. Power packs provide a much needed solution.
Just a few years ago these products were few and far between in the U.S. despite their prevalence in other countries. Today external power packs have made their way onto the shelves just about everywhere from big box stores like Best Buy to boutique specialty stores like Roving Power. Manufacturers have realized there is a huge market base in the U.S. and the demand for such products is high. As a result power packs began to flood the market a few years ago, and online reviewers helped bring them to the forefront.
Now that U.S. consumers are familiar with external power packs and what they can do they have become must-have accessories for many. Roving Power is predicting portable chargers will be one of the biggest sellers in electronics this holiday season. One reason being the wide selection of products that range extremely small chargers like Roving Power's Micro Power Pack to larger options that are capable of charging a tablet a few times in one charge. They are also affordable starting at less than $15, making them perfect for just about any budget.
To learn more about RovingPower.com or their collection of competitively priced power packs, please visit: rovingpower.com.
About RovingPower.com
RovingPower.com was founded to meet the growing needs of consumers that want to stay connected. With power banks and power packs that are proven to be reliable and provide the power they say they will, products from RovingPower.com are guaranteed to perform. They are sold direct to consumers making them some of the most affordable options available today. RovingPower.com offers the price tag of an eBay seller with the customer service and quality expected from major brick-and-mortar stores.