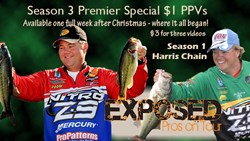 Exposed reveals all the work that goes into creating those big moments.
Yankton, SD (PRWEB) December 13, 2013
Exposed, the premiere educational bass pro fishing series, starring the top names in the sport, launches its first episodes of Season 3 on January 7th, 2014. These three episodes will follow pros Dennis Tietje, Charlie Hartley, and Bassmaster Classic World Champion Takahiro Omori during the practice days leading up to last year's Sabine River Challenge.
Exposed Season 3, as well as all archived episodes of past seasons can be purchased pay-per-view online or as part of the ProPatterns ELITE subscription package at ProPatterns.com.
Having been involved with Exposed since its inception, Brian Snowden discussed with ProPatterns the evolution of the series, explaining, "The Exposed Video Series has continually improved in providing viewers with an in-depth look at how each Elite angler goes about tackling a practice day before a big event."
Though pros like Snowden have been lauding the educational series for the past two years, ProPatterns President and CEO Chad Ekroth understands that fans new to the website might be hesitant to invest in the pay-per-view experience.
"Quite a few fishing series are available on sports channels as part of cable packages or on websites that rely on heavy sponsorship from industry leaders and outfitters," Ekroth explains. "Many of these shows highlight the big tournament moments. ProPatterns prides itself on education, which means we focus on the practice days, when the pros are studying the waters before those big events. While other shows capture big tournament highlights, Exposed reveals all the work that goes into creating those big moments."
In an effort to reel in new fans, ProPatterns announces that during the last week of December it will be offering the first three episodes of the very first season of Exposed for $1 per episode. These three episodes feature Brian Snowden and Tim Horton on practice days leading up to the Harris Chain Showdown in 2011.
Fans who purchase Season 1, Episode 2 of Exposed, for example, will gain insight into Snowden's unique approach to dissecting the conditions on the water, while networking with peers and using online tools to gain an added edge.
In 2008, Snowden nearly took top honors at Harris Chain, but was unseated in the last day of competition by pro Mike McClelland, who with Snowden also appears on all three seasons of Exposed.
While Snowden was very familiar with Harris Chain when he filmed Season 1 of Exposed in 2011, his experiences during the episode he filmed for Season 3 will be different. This time, he says, "Fans will get insight into how I approach a body of water that is unfamiliar." In April, Snowden will appear in an episode of Exposed that was filmed at the Detroit River Championship last August.
While Snowden reflects on his past experiences with Exposed, describing the series as "a great visual way to quickly and easily learn new fishing techniques," the Missouri native is also looking ahead to the upcoming season, telling ProPatterns, "I am anxious to be at home during one of the Elite events this year. Table Rock here we come!"
Through the end of December, ProPatterns ELITE memberships are available at half-price for those who purchase both DVD collections of Exposed. ProPatterns ELITE members gain access to all archived episodes of Exposed as well as all upcoming premiers of the series.
About ProPatterns, Inc. and Exposed:
ProPatterns, Inc. is a leader of angling education offering a variety of fishing tips and membership services online including competitions to win exclusive prizes.
Information is gathered from various sources and disseminated with members in a variety of ways. The Exposed video series, for example, gains all of its integrity from an alignment with the biggest names in the bass fishing industry including professionals who fish with BASS, FLW, and PAA. Cooperation from the anglers and their willingness to share is the catalyst for the growth of this series.
Season 1 of Exposed features 22 professional videos in a 9 disc collection DVD set, it can be ordered at the ProPatterns online store. The set includes over 20 hours of video, and is also available in a pay per view format at http://www.propatterns.com.
Season 2 of Exposed, which became available on DVD last month, features 24 pros and over 16 hours of footage on an eight disc collection. Pay per view options for Season 2 are available online at http://www.propatterns.com as well.
The company is based in Yankton, South Dakota, home of CEO and President Chad Ekroth. Ekroth's background includes a computer science degree and business experience involving several successful startups. When not tending to business, Ekroth spends his time tournament fishing and engaging in other outdoor related activities which help educate and protect the future of angling and hunting.
Visit http://www.ProPatterns.com today to receive all of the latest information about the Exposed videos series and to learn more about all of the member services available.