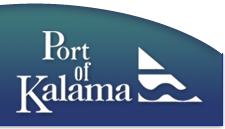 Rail expansion at the Port of Kalama doubles rail capacity and triples product throughput capacity at the site.
Kalama, Washington (PRWEB) December 13, 2013
The Port of Kalama board of commissioners voted this week to award a contract for significant rail expansion and relocation at the Temco LLC site. The port's $5.9 million investment coupled with a substantial investment by Temco doubles rail capacity and triples product throughput capacity at the site. The project was awarded to Chehalis-based Railworks Corporation. Construction starts on January 7, 2014 and is expected to be completed by June, 2014.
"Rail expansion and track relocation significantly enhance our client's transportation efficiency and doubles the firm's rail capacity to move grain which enables them to remain competitive in the global export market," says Port of Kalama commission president Troy Stariha. "These are the kinds of partnerships on projects we can offer our clients while making a positive impact on the region's economic health."
The project is being built by the Port of Kalama and consists of the construction of lead and yard tracks, associated grading and drainage improvements, and utility relocations and protections.
Railworks, a rail track, transit and systems construction and maintenance provider, will install 3.6 miles of new track and relocate 1.1 miles of track. RailWorks and its operating subsidiaries provide railway construction and railroad maintenance services for a range of customers - from major transit authorities, to commercial and industrial companies, to railroads of all sizes.
"This project is another excellent example of how local and regional utilities and service providers work together to enhance opportunities for our port businesses," said Stariha. "Special thanks to our collaborating partners on this project—Williams Pipeline, City of Kalama, Cascade Natural Gas, Kalama Telephone, Cowlitz PUD, Somarakis Inc., Mountain Log Homes and AT&T."
About Port of Kalama – Where rail and water meet:
The Port of Kalama is located in Southwest Washington on the Columbia River and immediately off of Interstate Highway 5. The port exists to induce capital investment in an environmentally responsible manner to create jobs and to enhance public recreational opportunities. Port of Kalama's industrial area includes five miles of riverfront property adjacent to the 43' federally-maintained deep draft navigation channel of the Columbia River. The Port is served by the Burlington Northern/Santa Fe and Union Pacific railroads. There are over 20 industries located at the Port of Kalama, employing over 830 people. Port of Kalama offers all the superior facilities businesses need to thrive, and an unsurpassed quality of life. The port offers shovel ready sites, a new Industrial Park, state of the art Marine Terminals and transportation accessibility to rail and highway all just a 30 minute drive to the Portland International Airport. Port of Kalama also offers high-bandwidth communications, with dual access fiber-optic service to Seattle and Portland. Properties currently available at the port for businesses wishing to expand and thrive: http://www.showcase.com/lnewman(at)portofkalama(dot)com Visit http://portofkalama.com/industrial_property.
CONTACT: Claudia Johnson, Strategic Communications, 503-799-2220/cell