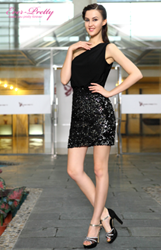 Ever Pretty US offers an additional 10-40% off New Year's Eve dress collection
Tustin, CA (PRWEB) December 13, 2013
US.Ever-Pretty.com, one of the leading online retailers providing the hottest trends in dresses for girls at competitive prices, unveiled its collection of New Year's Eve dresses just in time for the holidays. This line of elegant party dresses offers customers the same cuts, fabrics, and styles that are flying off the racks at the trendiest fashion boutiques in New York and Paris at affordable prices, with convenient shipping across the country and the globe.
The holidays can be a stressful time, and not having access to a beautiful dress for a seasonal school or New Year's Eve party can make it even less enjoyable. But US.Ever-Pretty.com is offering an additional 10-40% off discount prices just for the holidays to help put this 35-dress collection in the hands of women of all ages so they can embrace the type of pretty clothing and dressing they want for the holidays.
This exciting New Year's Eve collection includes a number of interpretations of the essential "little black dress," several of the hottest colors and cuts featuring high-low hems and fun one-shoulder and strapless options, a number of popular prints using on-trend materials like satin and chiffon, and charming details that will make them stand out and turn heads at any New Year's Eve party.
This collection delivers on-trend style but also because of the prices Ever-Pretty is able to offer on these New Year's Eve dresses. Other retailers would charge hundreds of dollars for this season's hottest styles and fashions but Ever-Pretty's designers prepare their own garments, enabling them to offer the same exact trends at much more reasonable prices, with this limited-time additional 10-40% off discount prices making them an even better value.
About US.Ever-Pretty.com
Ever Pretty Garment Inc. has been designing high fashion dresses and ladies apparel for sale at affordable prices for the eight years and counting. Offering personalized service on a global scale, the women's clothier has online retail outlets in the U.S. and Europe. Their design team, with CEO Anna Shi at the helm, creates a diverse selection of high quality, trendy dresses in all sizes at competitive prices. The company owns and controls all business aspects—from design to manufacturing to quality control and sales, to produce the highest quality garments that any woman can afford.
For additional information about Ever Pretty Garment Inc, please visit their website at http://www.US.Ever-Pretty.com or by calling toll-free at 1.855.377.3889 for further details.