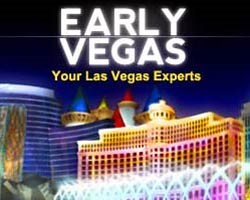 Paying for hotels and show tickets can be expensive, especially when there plenty of other fun things to do in Vegas.
Las Vegas, NV (PRWEB) January 14, 2014
Already booked a Las Vegas hotel for January, 2014? After getting a jump on which friendly slots to play and booking tickets to a favorite show on The Strip, all that's left is to flush out the rest of the trip and review the many no-cost popular things to do in Vegas.
The editors at EarlyVegas.com understand that paying for hotels and show tickets can be expensive, especially when there are other fun things to do in Vegas.
Fortunately, Las Vegas has plenty of things to do for little to no cost. Here's a sample list:
Bellagio Botanical Gardens: Enjoy a romantic date with a broad range of seasonal displays. This is a great way to find a little bit of nature in the Entertainment Capital of the World, and it's open 24/7. Head over at dusk or in the early morning hours to avoid crowds. Cozy up, bring a camera and a loved one, but leave the wallet at home.
Volcano at Mirage: Watch the volcano erupt! It's no wonder this attraction is so popular - at 54 feet high it would draw a crowd even if it weren't free. Rigged with pyrotechnics and coordinated with recordings of actual volcanic eruptions, the Mirage puts on a unique show each and every time the volcano goes off. Operating at intervals from 8pm-12am Mon-Sun, the later you go the more likely you are to avoid crowds.
The Venetian's Las Vegas Preview Studio: There are not many attractions anywhere, never mind in Vegas, where you can get in for no cost, and then get paid for having attended! The Las Vegas Preview Studios along the Venetian's canal gives visitors opportunities to see not-yet-aired TV show pilots and products before they become available to the general public! Better yet? They frequently pay guests in exchange for their feedback.
The Mirage Aquarium: The Mirage Aquarium can't be beat for family-friendly things to do in Las Vegas. Visitors of all ages love seeing over a thousand animals which represent 60+ species in The Mirage's huge aquarium which spans over 20,000 gallons. A team of in-house marine biologists care for the expansive coral reef aquarium.
And why not top it off with corniest free thing to do in Vegas? Head out to the "Welcome to Las Vegas Sign" where guests can stand or park next to the 50-year old iconic sign and snap pictures to share with friends and family on Facebook, or use them for next year's Christmas card.
So save some cash for a luxury hotel or a well-deserved day at the spa. Alternatively, put the extra savings towards the gaming tables... maybe it'll pay off in spades. And who knows, it could turn into diamonds.
For a more complete list of all the fun and exciting no-to-low-cost things to do in Vegas, visit http://www.earlyvegas.com/attractions.
This article written by Alex Turner, editor at EarlyVegas.com.