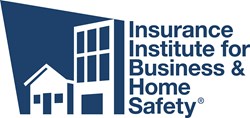 Tampa, FL (PRWEB) December 13, 2013
The Insurance Institute for Business & Home Safety (IBHS) today announced its support for the Disaster Savings Account Act, recently introduced by U.S. Rep. Dennis Ross.
"This initiative benefits homeowners, communities and the government by ultimately reducing the amount of property damage caused by natural disasters," said Julie Rochman, president and CEO, IBHS.
"Given that most people are not able to move out of the way to escape Mother Nature's fury, what else can be done to help communities better withstand the devastating disasters that will continue to plague our nation?" asked Rochman. "If we cannot move homes out of harm's way, the only alternative is to strengthen them in the face of natural hazards."
The Disaster Savings Account Act would allow homeowners to save up to $5,000 in a federal tax-free savings account to be used for expenses to make their homes more disaster-resistant. The money could be spent solely on mitigation-related expenses and be held by a bank or insurance company. Any unspent money at the end of the year could be rolled over to the next year.
Rep. Ross' proposal comes at a time when losses from natural disasters are soaring, Rochman said. "The average insured loss in the U.S. between June and January from 2000 to 2012, was $13.8 billion (in 2013 dollars). While insured losses in the U.S. during the first half of 2013 totaled $7.9 billion, that is well below the average for that same time period during the preceding 12 years. Munich Re loss figures for the U.S. include claims covered by private insurers as well as losses covered under the National Flood Insurance Program.
"Providing homeowners with a tax incentive to harden their homes will reduce the amount of property damage caused by disasters, which will in turn decrease the amount of government disaster aid needed following a catastrophe," Rochman said. "Homeowners suffering less damage will be able to return to work quicker, which helps the local community recover faster and also helps maintain the local tax base."
"We need more creative ideas like the Disaster Savings Account Act to encourage people to take the necessary measures to make their homes safer and stronger," concluded Rochman.
To arrange an interview with IBHS, contact Kenya Woodard at 813-675-1053 (office) or 813-442-2845 (cell), or via email at kwoodard(at)ibhs(dot)org or via direct message on Twitter disastersafety.
About The Insurance Institute for Business & Home Safety (IBHS)
IBHS is an independent, nonprofit, scientific research and communications organization supported by the property insurance industry. The organization works to reduce the social and economic effects of natural disasters and other risks on residential and commercial property by conducting building science research and advocating improved construction, maintenance and preparedness practices.