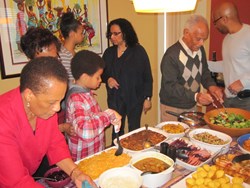 "Incorporating loved ones with dietary restrictions into family dinners can be tricky, especially during the holidays when group meals are frequent"said Karen Betz, Founder of Smoothe Foods
Huntington, NY (PRWEB) December 14, 2013
For those with dietary or eating restrictions, the thought of eating around a dinner table filled with loved ones and family members may be an intimidating, overwhelming thought: What can they eat? Will they be able to eat? What if complications happen in public?
Fortunately, Smoothe Foods, a leading wholesome soft and pureed food distributor, is a resident expert with these types of questions, as much of their clientele struggle with dysphagia (swallowing issues)caused by diseases such as Alzheimer's, cancer, Parkinson's or poor digestive functions, eating disorders, bariatric complications, and complications from dental and general surgeries.
"Incorporating loved ones with dietary restrictions into family dinners can be tricky, especially during the holidays when group meals are frequent," said Karen Betz, Founder of Smoothe Foods. "Fortunately, we're here to help to make everyone's memories of holiday gatherings be positive ones."
In addition to the advice of a speech pathologist, dietitian or physician, Smoothe Food's holiday meal-inclusive tips are as follows:

Plan, plan, and plan some more.
While impromptu meals may happen, it's important to plan meals ahead of time. Make it a point to set aside a date in advance to invite your loved ones, and give them a list of acceptable foods to bring. Using shared sites, like Google documents, is a great idea to help put together an organized sign-up sheet.
Simply ask, and get creative.
Ask your loved ones how you can make them feel comfortable. Instead of serving hard breads for an appetizer, serve pureed soups that are easy to eat and digest. And, instead of hard desserts, like crunchy cookies, consider puddings and soufflés that can be as easily elegant as any finale to a meal. If group meals are still a definite no go, then opt for other group activities like craft nights or movie-watching gatherings, so that everyone can partake in the fun.
If you're not able to host a dinner party and are invited by another host, ask what foods might be present. If the host is under a considerable amount of stress or may not be able to accommodate, it's perfectly acceptable to decline. Instead, dine on a meal at your home that everyone can enjoy. At the end of the day, holidays are about family and friends, and not always about spotlighting as a social butterfly.
Finally, let Smoothe Foods be an easy solution to any difficult situation. The line of quality meals are free of fillers, chemicals, and preservatives, and are a far cry from the traditional products on the market, which are powdered, canned, or boxed. The Smoothe Food menu boasts items like spinach lasagna, beet and apple soup, pasta with tomatoes and basil, a tangy and sweet carrot ginger soup, a filling eggplant ratatouille, and even tofu l'orange that can be served at dinner parties or boxed and taken to others' homes.
For more information on products and ordering, visit http://www.smoothefoods.com.
About Smoothe Foods
Smoothe Foods is a line of soft and pureed menu items that are all natural, nutritious, and great tasting. The company ships nationwide, and focuses on providing gourmet meals that are preservative-free and filler-free to help ensure those with medical and dietary needs have a delicious, convenient meal option.
For more information, visit http://www.smoothefoods.com, or call 631-424-4005