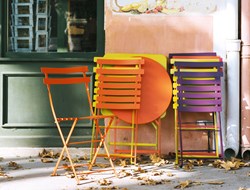 Carpinteria, CA (PRWEB) December 17, 2013
To all outdoor holiday shopping enthusiasts, it's time to mark your calendars for Eye of the Day Garden Design Center's latest discounted extravaganza: 20% off of fermob furniture, a French outdoor garden furniture manufacturer that's known for its luxe, high-end line that boasts both aesthetics and functionality.
The discount is valid for all fermob outdoor lounge furniture in-store, and it ends on December 24. Additionally, for those who spend $150 or more in-store, they are qualified to enter into a drawing for a three-piece bistro set that features a yellow table and two matching chairs, an approximate $650 value. The drawing for this set will take place on December 23, and one lucky winner will walk away with the perfect holiday gift for gardening – and lounging – hobbyists.
Example quote: "We're always supported by our loyal customers, and SoCal is our home," said owner Brent Freitas. "Without the support of our community, we wouldn't be able to thrive and expand to Napa like we have planned for the start of 2014. So, I want to give a big thank-you to our customers and give someone a holiday gift that they can keep for themselves or gift to a loved one. What's better than sitting outside, taking in the sights and sounds of nature? Get away from the TV and get back to old times, when good old fresh air was the way to wind down after a long day."
Eye of the Day has been featured on major gardening sites, like DIY.com, and Freitas was recently showcased as a gardening accessory expert on NewHomeSource.com, in the article "Turn Up the Heat in Your Patio or Yard," by Sarah Kinbar. The gardening guru has also worked with Tommy Bahama and Ralph Lauren to outfit the fashionable clothing lines with luxe gardening accessories, and Eye of the Day knows how to please any client – ranging from the private consumer to the landscape architect to the international clothing store brand.
Interested customers can visit Eye of the Day's in-store site, located at 4620 Carpinteria Avenue, and store hours are from Monday through Friday, from 10 a.m. to 5 p.m. Driving directions can be found on http://www.eyeofthedaygdc.com, or customers can call 1 (800) 566-6500.
About Eye of the Day Garden Design Center
Eye of the Day Garden Design Center is a retail showroom that features more than an acre of high quality garden landscape products, including Italian terracotta pottery and fountains, Greek terracotta pottery, French Anduze pottery, and garden product manufacturers from America's premier concrete garden pottery and decoration manufacturers. Eye of the Day is a leading importer and distributor of fine European garden pottery, and caters to private consumers, as well as landscape design and architecture firms from around the world.
To see what Eye of the Day Garden Design Center can do for your business, visit http://www.eyeofthedaygdc.com.