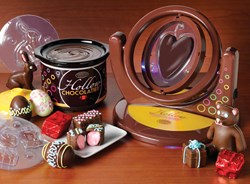 "Chocolate is a popular gift idea to begin with, and homemade chocolates are even more special."
Green Bay, WI (PRWEB) December 16, 2013
Just in time for the winter holiday season, Nostalgia Electrics is gifting consumers with its newest sweet treat, the Rotary Hollow Chocolate Candy Maker. With everything aspiring chocolatiers need to make their own candy, hollow chocolate candies will be popping up in holiday gifts everywhere.
"Chocolate is a popular gift idea to begin with, and homemade chocolates are even more special," says Rob Houston, Director of Product Development at Nostalgia Products Group. "With the holiday season fast approaching, the Rotary Hollow Chocolate Maker is a great gift to give as well as a great way to make gifts for others."
With a chocolatier heating pot for melting down consumers' choice of chocolate, it's easy to then pour the melted chocolate into one of the seven included molds. Special occasions will be sweeter with the included Santa, heart, pumpkin, bear, bunny, egg and 4-in-1 gift molds. The unit's flashing lights bring an added air of festivity to the entire process of spinning a tasty chocolate masterpiece.
"You can turn off the lights in the room and it looks really cool because of the lights on the unit," said Gregg Bond, CEO of Nostalgia Products Group. "The flashing colors are just an added part of what makes this particular unit unique and makes it a fun item for the entire family to gather around."
The Rotary Hollow Chocolate Candy Maker unit also comes with a spatula and filling injector, making it simple to fill the candies with favorite fillings. The finished product can be wrapped in the included double-sided foil to be given away or saved for later.
The Nostalgia Electrics Rotary Hollow Chocolate Candy Maker is now available in-store and online, with a suggested retail price of $29.99.
HCC360 Product Features:

Chocolatier heating pot
Chocolatier spinner with flashing lights (9-volt battery not included)
Spatula
Filling injector
25 double-sided foil candy wraps
7 decorative chocolate molds
Entire unit disassembles for easy cleaning
Recipes included in instruction manual
The HCC360 by Nostalgia Electrics is distributed by:
Nostalgia Products Group, LLC
1471 Partnership Dr.
Green Bay, WI 54304-5685
About Nostalgia Products Group, LLC:
Nostalgia Products Group, LLC, designs, manufactures and markets the Nostalgia Electrics brand of small electric appliances, a wide range of innovative products with a history of exciting consumers and retailers alike.
NPG products are sold through all major channels of distribution from both within the United States and to over 30 other countries. Retail and e-retail sales include all major department store chains, home shopping networks, catalogs and e-commerce companies, and the company's products carry the ETL, UL, GS and SSA electrical approvals internationally. In addition to product development, NPG's services include sales, marketing, warehousing and distribution. For more information, please visit Nostalgia Products Group, LLC online at: http://www.nostalgiaelectrics.com.
For more information, please contact:
Sales and Marketing
Nostalgia Products Group, LLC
Phone: 920.337.9800 Fax: 920.337.9984
E-mail: gbond(at)nostalgiaelectrlcs(dot)com
For media inquiries, please contact:
Karilyn Robinson
Nostalgia Products Group, LLC
Phone: 805.337.9800 x153
E-mail: krobinson(at)nostalgiaelectrics(dot)com