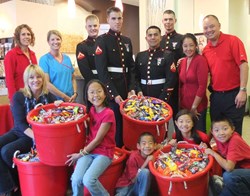 It was a great feeling being able to help so many of our troops overseas, said Covington.
San Diego, CA (PRWEB) December 12, 2013
Sabrina Covington, real estate agent at Real Living Lifestyles Escondido, helped organize The Candy Buy Back Program at the brokerage and in the local community. Covington placed a box in each one of Real Living's 8 offices and agents donated candy to fill the boxes. This year was a huge success with a grand total of 9414 lbs of candy being sent to the troops. "It was a great feeling being able to help so many of our troops overseas," said Covington.
Yearly the event is a collaborative effort among local health agencies and other community members to address the issue of childhood obesity and dental health among our local children. Visit the Facebook page at Candy Buy Back – San Diego. After Halloween, participating dentists and physicians purchase unopened candy from young trick-or-treaters for $1 per pound. They then coordinate with local shippers to send the candy to Operation Gratitude, which fills thousands of care packages for troops overseas.
Operation Gratitude seeks to lift morale and put smiles on faces by sending care packages addressed to individual Soldiers, Sailors, Airmen and Marines deployed in harm's way.
For troop safety, Operation Gratitude works from the Army National Guard armory in Van Nuys, California, to assemble the packages. Once completed, they are sent to service members overseas. For more information email healthykidschoice.sabrina(at)gmail(dot)com.
Real Living Real Estate is a network brand of HSF Affiliates LLC, which is majority owned by HomeServices of America, Inc.TM, a Berkshire Hathaway affiliate.