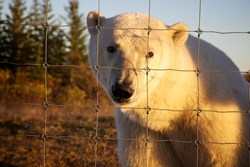 It only takes one good picture - or a lot of Facebook friends who will vote for you...
(PRWEB) December 17, 2013
International Wildlife Adventures has invited its recent travelers to submit their best polar bear picture to be posted on Facebook (Greatest Polar Bear Pictures album). The contestant whose picture gets the most "Likes" will win a significant discount off their next trip. IWA decided to sponsor this contest in an ongoing effort to raise awareness of the very real peril the bears face due to shrinking habitat.
"We believe that the more people see the beauty and magnificence of these endangered polar bears, the more people will feel compelled to do something to protect them. What better way to reach people than through Facebook," says IWA Director Susie Green.
"We expect that most entries will come from travelers who went to Churchill, Manitoba, the so-called 'Polar Bear Capital of the World' where it is virtually unheard of not to see bears. But the contest is also open to travelers who visited the Arctic. Polar bear sightings are not as numerous on trips to Spitsbergen, Franz Josef Land, or Greenland, but it only takes one good picture - or a lot of Facebook friends who will vote for you - to win the contest," added IWA Director Randy Green, a professional photographer with extensive wildlife photography experience.
Randy Green has written about wildlife photography and about the challenges of photographing in glaring, icy conditions. One popular blog post is "Taking Pictures of Polar Bears."
International Wildlife Adventures has been offering nature, photography, and diving trips worldwide since 1994, including trips to see polar bears.