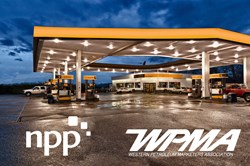 Partnering with an association such as WPMA gives us insight to the industry and allows us to help small business get access to products they need to stay competitive in today's economy
Seattle, WA (PRWEB) December 17, 2013
National Purchasing Partners (NPP) and the Western Petroleum Marketers Association (WPMA) have teamed to offer members special pricing on a wide array of products and services. WPMA serves petroleum marketers located in seven western states, providing them a variety of benefits. Through this partnership the association's members can now access NPP's portfolio of discount contracts with pricing that is not typically available to the general public.
WPMA represents petroleum resellers such as gas stations, convenience stores, truck stops, trucking companies and bulk storage facilities. Founded in 1953 as the Intermountain Oil Jobbers Association, WPMA now has a presence in Hawaii, Idaho, Montana, Nevada, New Mexico, Utah and Washington.
"The mission of WPMA is to assist members in increasing their business effectiveness and profitability," says its Gene Inglesby, WPMA Executive Director. "Our partnership with NPP will enable our members to save money and improve their bottom line."
NPP is a nationwide Group Purchasing Organization (GPO) with multiple contracts that help energy companies reduce their costs and improve their margin. NPP is a free and voluntary program, and member companies are welcome to choose which contracts they wish to access. NPP's large membership volume ensures top tier contracts and rates.
"Partnering with an association such as WPMA gives us insight to the industry and allows us to help small business get access to products they need to stay competitive in today's economy" says Andy Carmichael, National Account Manager for NPP.
Registering with NPP is easy. Visit http://www.mynpp.com to learn more; select "Join Now" to become a member. For more information about this the how WPMA and NPP are working together, contact us at:
National Purchasing Partners
http://www.mynpp.com
800.810.3909
customerservice(at)mynpp(dot)com
NPP Contacts:
Nick Roberts
Communications Manager
(206) 515-5424
Britannique Clayberg
Vertical Account Manager
(206) 625-7467
Brit(at)mynpp(dot)com
WPMA
http://www.wpma.com
WPMA Contacts:
Jamie Wood
Member Services
(801) 263.9762
jamiew(at)wpma(dot)com
Background Information
About WPMA
The Western Petroleum Marketers Association (WPMA) is a regional trade association of petroleum marketers, headquartered in Salt Lake City, Utah. Seven state associations are members of WPMA, including Hawaii, Idaho, Montana, Nevada, New Mexico, Utah and Washington. Since 1953 WPMA has been assisting the state associations in administering their programs, distributing legislative information, and providing convention and membership services. WPMA hosts a national convention and convenience store expo in Las Vegas each year.
About National Purchasing Partners
National Purchasing Partners is a cooperative purchasing organization that offers competitively bid and publicly awarded contracts for our members. Members receive discounted rates on essential products and services from prominent industry companies, including Verizon, John Deere, Fastenal, Expedia, Staples and more.
Membership is free, and there is no obligation to purchase. Members have access to items such as wireless service, electronic devices, equipment, office and industrial supplies, furniture, printing and commercial flooring.
Public entities, such as city or state governments, can utilize our competitively-bid, publicly-awarded contracts. These contracts comply with national and local procurement requirements, and save organizations both time and money in the purchasing process.
NPP was founded in 2001, and is now one of the largest cooperative purchasing entities in the country. NPP is owned by Virginia Mason Medical Center, recently named the top hospital of the decade, and much of NPP's revenue supports medical research and other healthcare initiatives. NPP also partners with several organizations and associations, including the International Association of Fire Chiefs and various other nonprofits.
NPP also serves thousands of companies nationwide in a wide variety of other industries, among them construction, transportation, fire and rescue, energy, legal and finance.
Registering to become a member is easy. Visit http://www.mynpp.com to join. If you would like more information or have questions, contact NPP at customerservice(at)mynpp(dot)com or call 800.810.3909.