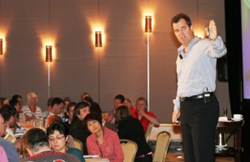 Creative strategies can help give both the buyer and the seller a positive outcome when it comes to negotiation.
(PRWEB) December 15, 2013
The Royal Institution of Chartered Surveyors predicts that prices of houses for sale in the United Kingdom will continue to rise in 2014 as high demand and low supply of residential housing in the country persists, (Financial News.co.uk reported on 10 December 2013).
Lack in stock of UK property, however, did not prevent sales from increasing in November. The average number of homes sold last month per chartered surveyor averaged 20.6, 5 percent more than last year's average of 15.9, the news article added.
"A lot of people are flocking to the market right now to buy United Kingdom real estate, either to be used as a home or an investment, but, unfortunately, only those who have a lot of cash can get in," according to Rick Otton, in a recent interview for his UK Property Free Report.
"The majority of people living in Great Britain, however, don't have enough cash on hand, so when they compete with cash-rich buyers they end up losing their shot at home ownership and are forced to wait a few more years to save enough money or just completely give up their dream of buying a house," he added.
To give those in Great Britain a fighting chance for survival in the United Kingdom property market, Mr. Otton revealed that waiting a long time to buy a house is just a misconception shared by those who only know the traditional method to buy property.
"It's possible to buy a home without saving up a lot of cash for a bank deposit if you begin embracing creative strategies. This process invites the use of terms that gives the buyer and seller the opportunity to structure the transaction for their mutual benefit.
As a result, it becomes beneficial for the seller to offer flexible terms to the buyer especially since other people competing for the same property tend to have only one strategy which is to bargain for a discounted price. The key is for the buyer to find out what the seller wants and it may not be related to price, even in a rising market," said Mr. Otton.
"Creative strategies can help give both the buyer and the seller a positive outcome when it comes to negotiation," he explained.
Visit http://www.rickotton.co.uk/freereport/ now to get a copy of the Free Report for UK properties and liberate yourself from the lies of the traditional property market.
About Rick Otton
Rick Otton is a property investment professional who, over the last 23 years, has introduced innovative real estate strategies to the UK, Australian and the United States. His creative 'low-risk, high-reward' approach to buying and selling houses is exemplified in his own business, We Buy Houses.
This year marks the 10-year anniversary of Mr. Otton introducing his strategies to the UK, and the 5 year anniversary of his innovative 'Buy A House For A Pound' process – one that attempted to be emulated by others. His constant process of strategy refinement, and adapting to the ever-changing real estate market, continues to place him at the forefront of property investment education.
In 2012 Rick Otton published his Australian book 'How To Buy A House For A Dollar' which was named in the list of Top 10 Most Popular Finance Titles for 2013. A UK version is on the drawing board for publication in 2014.
Mr. Otton freely shares insights into his non-bank-loan strategies that have allowed everyday UK men and women to beat the rental cycle and have their own homes. He coaches others on how to build profitable businesses by facilitating transactions that focus on the needs of potential buyers and motivated sellers.
Access his Free Report at http://www.rickotton.co.uk/freereport, as are the details of early bird pricing for his next UK 3-day real estate training conference in March 2014. Phone enquiries in the UK are welcome on 0207 000 1027.