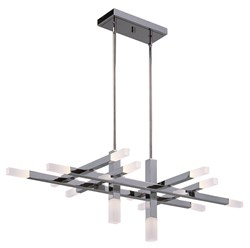 The Crossroads Collection is a magnificent example of Mid-century Modern Design.
(PRWEB) December 13, 2013
To design in the spirit of Mid-century Modern is to continue a trend in interior design that began as many as 80 years ago. The iconic style wasn't always called "Mid-century Modern" though – it was simply referred to as "contemporary" during the thirty years between the 1940s and 1970s when it came of age, communicating a post-war, jet age attitude of the desire for a simpler tomorrow, in which fresh hope and unmarked aspiration were the ultimate comment on stylish living. At the time, Americans were thrilled to put their interpretations on a modernist movement that had already been happening in Europe. Flat-roofed homes by Joseph Eichler; sculptural lighting fixtures by Getano Sciolari; tulip chairs by Eero Saarinen; geometric chaise lounges by Le Corbusier; streamlined coffee mugs by Heath Cermaics; all the elements of new designs of Scandinavia, Italy, America and beyond -- breathed into our rapidly expanding suburbs.
Today, Mid-century Modern designs now have the distinction of being old, but not too old: having been developed long ago enough to insight nostalgia for members of today's older generation, and novelty of times-gone-by to today's younger generation, while still standing for all to see as architecture in our neighborhoods, art in our galleries, music, and movie reproductions left and right. Turn on the tube to see the era at the office in Mad Men, at home in That 70s Show, or in fantasy in Star Trek. Los Angeles' super-successful recent mega-museum exhibition Pacific Standard Time canvassed the city in the era's in art, to rave reviews. Pared-down minimalist simplicity feels just as good in today's cultural climate as it did after World War II. Mid-century Modern is always in style.
The signatures of Mid-century Modern Design in minimal interiors and furnishings, simple and clean lines, and geometric and sculptural fixtures, are reproduced today. In lighting, the no-frills Midcentury attitude lent itself to the use of futuristic clean lines, globe, square, and triangle shapes, with the use of brushed metals and frosted glass. Among the most famous lighting designers were Poul Henningsen, who made the Artichoke Lamp, the Castiglioni Brothers, who made floor lamps, and Sciolari, who made cubist designs and interconnected tubular chandeliers. Today, replicas of Henningsen's work are commonplace, and influences of Scoilari's work can be seen in lighting fixtures by Italy's Nemo Lighting, Kichler, and Maxim Lighting.
In Mid-century modern architecture, elements are used and shown off in their natural state: glass, brick, stone, and wood. In many cases, the simplest, most linear compositions possible (think, the straightest point between two lines) are embodied in designs like exposed brick fireplaces, chairs made of one material. Single-level open floor plans and cantilevered rooms or decks also speak to a desire for an effortless integration with nature and the redefinition of boundaries. Made in ultra bold statements, it's the structural transparency of such floor plans – in which angular building lines are celebrated, and beams are exposed, that have endured and been reproduced over and over.
Adding a Mid-century Modern twist to your home is easy. By shopping at a combination of vintage stores, flea markets, today's hottest showrooms and online marketplaces, one can create a residential or commercial interior that exudes all the sleekness and charm of the Mid-century, and even add their own updated version. In fact, there are so many sources – not to mention an influx of furniture now that 1960s homebuyers are reaching advanced age – that it may be intimidating to know where to start (Houzz.com has called the popularity of Mid-century modern design a "frenzy"). What's the best way to find new products that can cohabit with vintage pieces for one cohesive look? Capture the Mid-century modern feel in an updated way. Start by shopping for furnishings and fixtures from manufacturers who really do their homework. Look for products made by companies who perform extensive research to design functional art based on attention to detail, historical context and quality. While offering trends in today's reinterpretation of modernist geometric styles such new iterations introduce materials such as LED technology and two-toned metallics. It is with this creative integrity that the ET2 Contemporary line was created by Maxim Group Companies, a family business committed to preserving the principles of fine art, form, function, and aesthetics, while providing today's designers and homeowners smart and easy elements for authentic and inspiring spaces. Based on needs and solutions, the popular Crossroads collection is one of the best examples of this. Read more about it here. Read more about ET2's Contemporary lighting designs here. Read more about Maxim Lighting's45-year history here. The wonderful thing about Mid-Century Modern Design is that it is a time-tested style; but there is still room for your own personal touch.