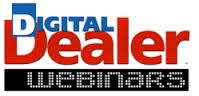 Great companies use technologies to accelerate momentum, not create momentum.
Amarillo, TX (PRWEB) December 13, 2013
As the calendar winds down, the anticipation builds regarding a Dealer Communications webinar held by Interactive 360 CEO, Rick McLey through Dealer Communications on strengthening customer retention beyond the initial 12 week customer life cycle. The webinar is set to begin at 11:30 AM ET on December 19th and registration is still open on the webinar page through the Dealer Communications website.
The key take aways' that McLey intends to deliver the audience of digital and automotive attendees alike include:

How to use technology to accelerate sales momentum
See the customer life cycle beyond the awareness phase
Reduce customer defection with improved communication opportunities
Create brand loyalty through customer-centric processes
As Rick McLey explains in his webinar "teaser" video, "customer defection is now at 62% which means you are only retaining 38% of your customers. Of those customers that defected, half of those people defect because of lack of communication." He further explains by saying that, "great companies use technologies to accelerate momentum, not create momentum."
McLey's love of technology began while working as a Data Systems Specialist for the United States Navy and his love for the automotive industry began while working as a salesman for a local dealership during college. He used his skills to move from selling vehicles to becoming an Executive Manager over multiple dealerships. McLey was an integral part of the dealerships' success with an average monthly sales volume of 800 units. During his more than 20 years of experience in the retail industry, McLey has worked for some of the largest dealer groups in the United States.
To register for the December 19 webinar, please visit the webinar page in the Dealer Communications website and click the "Register Free" button.
Interactive 360, Inc. is a digital marketing agency based in Amarillo, Texas that offers a wide range of products and services for clients in the automotive industry, including: complete website construction, inventory management, Drive360®CRM, monthly onsite training, social media marketing, SEO, content marketing and PPC marketing campaigns. Rick McLey, CEO of Interactive 360, Inc., believes that in order for Interactive 360, Inc. to best serve clients in the digital arena, one cannot fear change but embrace it and constantly be eager to improve. For any questions you may have, please contact Interactive 360 at 806-576-3700 or visit their website at http://www.Interactive360.com.