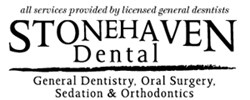 Salt Lake City, Utah (PRWEB) December 13, 2013
Many patients find that visiting the dentist results in a high volume of anxiety and unease. Offices everywhere are discovering the benefits of sedation dentistry in this regard; it allows the patient to sleep through the procedure, without feeling any pain. However, sedation can often be costly and add more to the price of the overall procedure. Stonehaven Dental offices in Salt Lake City have introduced sedation into their practice, utilizing a variety of different techniques to fit their patient's need. A recent introductory offer on their website provides patients with a $75 discount coupon for sedation.
Stonehaven has kept up to date on the latest techniques and procedures for sedation dentistry. Implementing oral treatments, nitrous oxide, and I.V. sedation, Stonehaven provides a wide variety of options depending on the severity of the patient's anxiety or procedure. For impatient children who are often frightened of dental tools, sedation is often a great resort. Most of the sedation techniques allow little or no recollection of the procedure; many patients are unaware they went through any treatment at all. Though they are intensive, the patient still retains their protective reflexes.
Stonehaven dentists in Utah are experienced and fully licensed to practice sedation techniques within their practices. As a company that prides themselves on continuous adaption to new techniques and procedures, Stonehaven ensure their doctors are fully qualified, certified, and trained on any services implemented in their offices. Their high quality and reliable dental offices in Salt Lake City are located all around the valley, providing convenient access and a flexible schedule for patients throughout Utah.
Patients can only locate the discount coupon online at the Stonehaven website. It provides them with $75 off their sedation services. It can't be combined with any other offers and only one coupon may be used at a time. Since some insurance policies don't cover sedation, this provides an affordable alternative option.
For impatient children or anxious patients, sedation dentistry is proving to be an effectual and beneficial option. For more information about their services or procedures, or to fill out a new patient form online, visit their website at http://stonehavendental.com/.