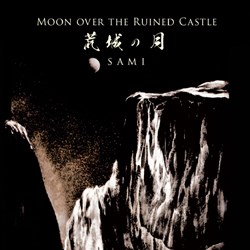 響き (Sound)
El Paso, Texas (PRWEB) December 20, 2013
SAMI's (Masazumi Aso) new piano solo album "Moon Over the Ruined Castle" is released through New Sound Productions to retail and worldwide online stores on December 20, 2013. The performance was recorded in Tokyo, Japan during his visit.
On July 18, 2005, his debut album "Feelings" was released to worldwide market. One of the songs, "SAMI's Land," was nominated as a No. 16 TOP 20 of the inspirational US hits chart. He has also been performing his concert and has achieved good acclaim for his recitals. It is only natural that his fans have been asking him to release his piano solo album for a long time.
SAMI – Masazumi Aso started playing piano when he was five years old. His extraordinary musical talent was acknowledged by Ms. Aiko Iguchi who was his teacher at the "Music School for Children" which was the origin of the To-Ho music college, where he began intensive piano lessons to become a professional pianist. However, considering the disadvantage with the small size of his hands, he started thinking of becoming a conductor instead of a pianist.
Since arriving to American shores, SAMI has had a strong desire to pursue his musical career and prepare on becoming a professional musician and so he entered The University of Texas at El Paso (UTEP). He pursued his Master's degree in orchestra conducting. He graduated from UTEP on May 2004, accomplishing his dream. His conducting talent was also acknowledged by Dr. Harold Farberman of The Conductors Institute at Bard College Conservatory of Music in NY.
His new album "Moon Over the Ruined Castle" includes nine world famous songs such as "Moon Over the Ruined Castle (Kojo no Tsuki)" composed by Rentaro Taki, "A Comme Amor" composed by Paul De Senneville, Olivier Toussaint, "Amazing Grace" composed by John Newton, "Limelight (Terry's Theme)" composed by Charlie Chaplin and "Somewhere Over the Rainbow" composed by H. Arlen.
In this album, Sami is playing his piano in his own inspirational way, not relying on the type or rules of music. It is like an explosion of magma from within; moving freely through his own mind and improvisational style. He is playing piano at its purest, harmoniously and naturally corroborating with nature. It causes an almost God-like presence. In this album, he is playing some of the most famous songs in the world, giving them his unique piano arrangement that can help but make the listener smile.
And if this inspiration story is not enough, the art work on the top cover of his album was presented by his 88-year old mother, Ms. Sumiko Aso, in the Japanese traditional art of Bonseki entitled "The Cliff and the Moon." The title song, "Moon Over the Ruined Castle" was requested by his 97-year old father, Mr. Masakazu Aso.
Music and art are the power and hope of life.
For more information, please visit his website at http://www.samilive.com.