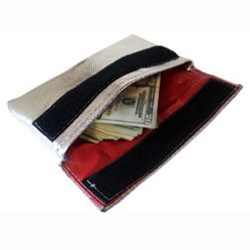 Hot Stop fireproof pouches are a relatively small investment for a large amount of peace of mind..
(PRWEB) December 13, 2013
AllHandsFire.com, a leading New Jersey fire safety equipment supplier, knows full well how destructive fire can be and say that while some people consider installing a fire proof safe in their home, a smaller solution that offers great practicality is a fireproof bag or fireproof pouch. "It takes up a lot less space than a fireproof safe," says company president and founder Donald Colarusso, "And it costs a lot less, too. A fireproof safe is a significant investment and while it can be well worth the expense, Hot Stop pouches are a relatively small investment for a large amount of peace of mind."
Fireproof Pouches Ideal for Protecting Valuables
Mr. Colarusso, a fire chief and safety trainer with 26 years of experience says, "The mini fireproof pouches we carry are ideal for coins, jewelry, watches, and other small items that have sentimental value." The company also offers larger fireproof money pouches that are perfect for protecting cash, bonds, and other important papers from fire.
The pouches, invented by Tom Connolly of IEP (Industrial Energy Products), are made with multiple layers of reflective Mylar facing and this high temperature barrier material can withstand over 2000ºF of heat and has a self-extinguishing liner.
"While there's never a 100% guarantee for protection against fire, these products are rated to provide excellent protection that's tested to meet a number of standards for flame resistant textiles including that of protective firefighter clothing." Says Mr. Colarusso, who recommends that they be stored in a lower part of a home, face down, for maximum protection.
Fire Protection: Protecting Valuables in 2014 and Beyond
All Hands Fire Equipment has these in stock and is shipping them for many customers who are purchasing them for Christmas gifts. The company says they're perfect for anyone, including for people whose New Year's resolution includes improving their home's fire protection plan. The company also provides a number of other important home fire safety equipment products, including smoke detectors, fire extinguishers, first aid equipment, emergency preparedness /survival supplies, and more.
Learn more about HOT-STOP fireproof pouches and check out an informational video at http://www.allhandsfire.com/Fireproof-Bags. Check out the company's list of hot safety stocking stuffer items, too, at http://www.allhandsfire.com/Holiday-Gift-Center/Stocking-Stuffers. Fireproof pouches are currently available at just $45.99 and up.
About All Hands Fire Equipment:
All Hands Fire Equipment is a New Jersey based family-owned business that has been serving NY and NJ with fire safety equipment since 2001. They supply individuals as well as rescue professionals and firefighters with rescue, safety, and firefighting gear.
Contact information:
All Hands Fire Equipment
506 Atkins Avenue
Neptune NJ 07753
Email: sales(at)allhandsfire(dot)com
Follow All Hands Fire Equipment on Facebook at http://www.facebook.com/AllHandsFire and on Twitter: at http://twitter.com/allhandsfire.