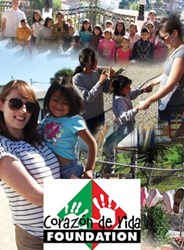 San Diego, CA (PRWEB) December 14, 2013
From the month of December, Leo Hamel Fine Jewelers and Jewelry Buyers will be fundraising for Corazon de Vida (Heart of Life), a local non-profit that financially supports 12 orphanages in Baja California, Mexico. Founded in 1994, the U.S. based Corazon de Vida helps to provide the necessities of shelter, food, clothing, education, and healthcare for children in dire need. The organization also provides assistance through cross-border visits by board members, staff, and volunteers. Their goal is to end the cycle of poverty and homelessness in Baja and their core value is that every child's life holds the same potential, excitement, and opportunity as any other life.
Mexico has no welfare system to help a single parent that is unable to provide for their children. There is no foster care system to support children in need due to neglect, abuse, or abandonment, and many end up abandoned and living on the streets. The network of orphanages is the only hope for these children who have nowhere else to go to be safe, fed, and get an education. With no support from the Mexican government, the orphanages must rely on donations to sustain the kids and pay expenses.
Leo Hamel Fine Jewelers and Jewelry Buyers is gathering donations for Corazon de Vida in two ways. Physical donations of school supplies, toiletries, kitchen and home cleaning supplies, clothing and undergarments, can be dropped off at any of their 9 San Diego County locations. See http://www.corazondevida.org/cdv-volunteer/wishlist for specific wishlist needs. A link has been set up on their website at http://www.leohamel.com for cash donations, which will be used for whatever is most desperately needed at the moment. Corazon de Vida is a 501c3 nonprofit organization. All donations are tax deductible to the fullest extent of the law.
Leo Hamel Fine Jewelers has been buying and selling jewelry in the San Diego area for over 33 years. Just last year they were voted San Diego's Best Designer Jewelry in the A-List contest, and were voted San Diego's BEST Jeweler for the fifth year in a row in the Union Tribune's SD BEST poll. Leo Hamel Fine Jewelers' two showrooms in El Cajon and in San Diego near Old Town are the only locations to offer watches and jewelry for sale, and watch and jewelry repair is offered in San Diego only. Nine jewelry-buying locations in San Diego, La Mesa, Solana Beach, Oceanside, Escondido, Rancho Bernardo, Scripps Ranch, Chula Vista, and El Cajon specialize in buying gold, jewelry, and fine watches.
For more information about this press release, please contact Paloma Colón at
619-299-1500 or paloma(at)leohamel(dot)com.