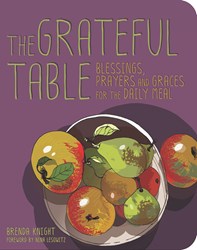 (PRWEB) December 13, 2013
Too busy running around trying to finish Holiday preparations to sit down and read? Listen instead! Viva Editions has just released several top new titles as audiobook—and they are already bestsellers!
The Grateful Table: Blessings, Prayers and Graces for the Daily Meal
Saying grace is one of our loveliest traditions. The Grateful Table offers 365 beautiful blessings for every day of the year. From 18th-century prayers for Thanksgiving to devotionals from the world's wisdom traditions and sincere expressions of thankfulness by Alton Brown, David Foster Wallace, Jack Kerouac, Shirley MacLaine, Dave Eggers, Sheryl Crow, Neil Gaiman and Alice Walker, The Grateful Table shows us the way to begin every meal with an open heart. The Grateful Table is also a gift that gives back as a portion of the proceeds go to BOSS (Building Opportunities for Self-Sufficiency).
What Are You Waiting For?: Learn How to Rise to the Occasion of Your Life
Through candid stories and insightful lessons, writer and self-proclaimed "self-help junkie" Kristen Moeller helps us explore the pervasive human tendency to wait as life goes by and to look outside ourselves for answers. As Wayne Gretzky once said, "You will always miss 100 percent of the shots you don't take." Kristen Moeller's mission in life is to inspire you to get on the path, move forward and take the shot.
Jump-Starting Boy: Help Your Reluctant Learner Find Success in School and Life
Filled with reassurance and support, Jump-Starting Boys has heart-warming true stories, take-action checklists and over 200 helpful tips. Educators and mothers themselves, authors Pam Withers and Cynthia Gill, MA, LMFT, turn fear and guilt into can-do confidence through easy techniques and achievable solutions.
Always Look on the Bright Side: Celebrating Each Day to the Fullest
We often think of celebrations as centering around special occasions—birthdays, anniversaries or other holidays. But why wait for those times when every single day contains moments of merriment? The very fact that you are alive in this wondrous world is reason enough to revel. That's just what this book is all about: over 500 suggestions for living life to the fullest.
Mom's the Word: The Wit, Wisdom, and Wonder of Motherhood
Heartwarming and humorous, this tribute to moms of the world gathers the best things anyone ever said about motherhood. From beloved role models Dear Abby and Reba McEntire to movers and shakers such as Oprah Winfrey and Sonia Sotomayor, women (and a few men) crack wise on the subject at the center of everyone's life, mommy dearest!