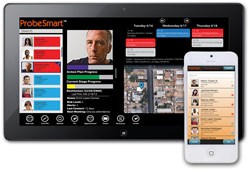 The advanced technology will empower our Officers to manage by exception and therefore be proactive in the lives of offenders, increasing their successful re-entry into society
Las Vegas, NV (PRWEB) December 16, 2013
GoldPost Technologies, Inc., (GPT) announced their contract with the County of Del Norte to deploy ProbeSmart™, the mobile recidivism risk prevention technology, equipping the Northern California Probation Officers with predictive intelligence in the field.
Becoming one of the country's first to use the mobile product to track and monitor probationers, Del Norte's Probation Officers will carry mobile tablets with live feeds providing detailed information on their offenders. "Del Norte County selected ProbeSmart™ to increase public safety, reduce recidivism, and provide the most current and accurate offender information to our Officers in the field. The advanced technology will empower our Officers to manage by exception and therefore be proactive in the lives of offenders, increasing their successful re-entry into society," said Linda Sanford, Chief Probation Officer, County of Del Norte.
The technology created by Nevada based GPT, allows Probation Officers the ability to manage their clients based on feeds that can be as important as analyzing a client's recidivism risk, allowing officers the chance to react quickly to these alerts. "The benefit of our cloud technology and its data driven practices is that it doesn't matter the size of the community, it can work for Del Norte or any county that wants to use the best public safety solutions developed," said Barry Goldstein, GPT's President and Founder.
A mobile caseload with offender photos, profile, action plan, and case notes allows the officer to begin and end their day in the field. ProbeSmart™ adds automatic risk notification empowering the officer to prioritize visits based on need, thereby contributing to the reduction of recidivism. "Officers lose hours a day researching disparate databases for information on offenders and preparing for field visits. ProbeSmart™, automates the search process, centralizes, analyzes, and delivers the information to the officer anytime, anywhere," said Glenn Rouse, Vice President of Sales at GPT.
ABOUT GPT:
GoldPost Technologies, Inc (GPT). provides innovative enterprise mobile solutions and data intelligence technology for the management of public safety, corrections and law enforcement. In addition to ProbeSmart™, GPT's product offerings include MobileCPS™, a child safety risk assessment system specifically designed for Child Protective Services, and MobileVRI™, an on demand remote interpreting service that provides a certified interpreter via a video streaming platform on your tablet or smartphone for public and private entities.