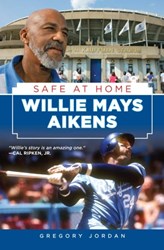 "You might only have one second chance, Willie was able to make the most of it." GJ Reynolds said."
Kansas City, MO (PRWEB) December 16, 2013
The Total Education Celebrity Show and Simply G Media Network today announced the release of a recent interview with former Kansas City Royal Willie Mays Aikens, discussing his memoir, Safe At Home. Aikens explained how his addition to drugs and alcohol hurt his baseball career and landed him a 20-year prison sentence to Total Tutor host Neil Haley and co-host GJ Reynolds.
"I remember how good a hitter Willie was," Reynolds said. "He was a star especially in 1980."
Considered one of the best sluggers in baseball when he played for the Royals, Aikens played from 1977 to 1985. In 1981, Aikens lead the Royals in Home Runs and RBIs. His career was tragically cut short because of his drug problem.
In the interview, Aikens discussed how he was introduced to cocaine.
"One guy from Kansas City invited me over to snort coke and party," Aikens said. "One thing lead to another and in 1983 I was convicted."
Aikens admitted why he felt doing coke was okay at the time. "I knew somebody on each team getting high. They would turn me on to coke when I was on the road and I would do the same in KC. Steroids were considered okay in 90s and 2000s like cocaine was acceptable in MLB [in the 80s]," Aikens said.
"I enjoyed that time in baseball and never knew the dark secrets of that time," host Haley said.
Aikens described his life after baseball and how he was arrested for dealing drugs, how he was sentenced to prison for 20 years and how he rehabilitated himself in prison. According to Aikens, he has been clean and sober ever since.
"Willie's story is so sad, how a great player throws away his career because of drugs," Reynolds said.
Other topics discussed in the interview were Aikens' favorite moment playing in MLB, the rest of his career, how drugs kept getting in his way, becoming a bench player with the Toronto Blue Jays, getting released and eventually leaving MLB to play in Mexico.
In 2011, Aikens was given a second chance and was hired by the Kansas City Royals to coach a minor league farm team.
"You might only have one second chance, Willie was able to make the most of it," Reynolds said.
You can purchase Aikens' book by clicking here: http://www.amazon.com/Willie-Mays-Aikens-Safe-Home/dp/1600786960. You can listen to radio interview live by clicking here: http://beachlifestyle.com/beachlifestyle-radio-show-willie-mays-aikens/#.UqqAWbT_OfQ.