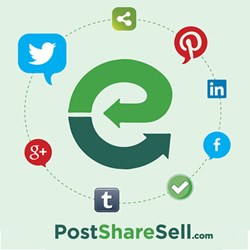 "The holidays just seemedlike the appropriate time to do so."
Tampa, FL (PRWEB) December 14, 2013
PostShareSell.com Announces Holiday Cash and Xbox One Giveaway
Ramon Alvarado, head of marketing for PostShareSell.com, announced a giveaway of (5) $200 Visa gift cards and (1) Xbox One Game console for the holidays.
On December 19th 2013, five registered users of http://www.PostShareSell.com will be selected at random to win a $200 Visa gift card just in time for the holidays. To ring in the new year right, one lucky registered user will be selected at random to win an Xbox One Game Console on January 1st 2014. PostShareSell.com has already given away (1) Xbox One Console, (1) Playstation 4 Console and thousands of dollars in Visa gift cards to random registered users. "Our user base has grown exponentially over the course of 2013 and we couldn't be more excited to give back to our loyal users" says Alvarado "The holidays just seemed like the appropriate time to do so."
Registered users of PostShareSell.com that are United States citizens over the age of 18 are eligeble to win. For more information about PostShareSell and these holiday giveaways visit http://www.postsharesell.com/blogs.cfm.
About PostShareSell
PostShareSell is the next evolution in online commerce for individuals and businesses. The website and mobile app are positioned squarely between e­commerce and social media. The site allows users to post goods and services and then share those posts through all forms of social media. PostShareSell allows sellers to engage with their social networks and also offers a landing page for anywhere else they would like to advertise and promote their product.
B2B e Trader LLC dba postsharesell.com
5010 W. Carmen St. Suite 2320
Tampa Florida 33609
Media Contact: David Daly/HuB Agency
941.914.0117