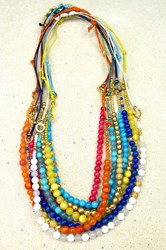 Jewels by SolEscapes is inspired by the sea and tropical locales making it ideal for the vacationer's wardrobe.
San Francisco, CA (PRWEB) December 13, 2013
SolEscapes recommends resort jewelry as it will be appreciated by most any woman on a gift list. Selecting a gift for an aunt, grandmother or mother can be a challenge; a unique bracelet or necklace that can be sported on vacation and beyond is a wonderful option. Choosing a unique jewelry piece for one's wife sends a message of love and thoughtfulness, and will surely be cherished.
Designed exclusively for SolEscapes, the Jewels by SolEscapes line of jewelry is inspired by the sea and tropical locales, making it ideal for the vacationer's wardrobe. Materials are selected for their beauty and quality; warm gold details emulate the sun, colorful semi-precious stones evoke island moods, and creamy white shell beads suggest moonlit romanticism.
Resort jewelry is a perfect present for vacationers; conveying style and polish, while offering flexibility. Pieces such as the Calypso Necklace have the versatility to be worn with many styles and colors of clothing. Natural wooden beads in white or brown are combined with a rainbow of colorful beads and a hint of gold. The colorful nature of the Calypso gives it the flexibility to be worn with clothing in many colors, and it looks stunning against a crisp white blouse.
Mixing, matching and layering are key to keeping a jewelry wardrobe fresh without packing the whole jewelry box. The Coco Cabana collection offers many fun color combinations to complement any outfit; a white/gold necklace and a pink/gold necklace worn with a navy tunic add a pop of color to a classic look. A gold necklace, used as a neutral, works with any palette; a black dress worn with necklaces in gold and turquoise/gold would be beautifully tropical. Similarly, the Coco Cabana bracelets offer a multitude of layering possibilities. For a simple, trendy look, bracelets in two favorite colors are combined with a gold wrap bangle. For a bolder statement, more colors are added.
When extra elegance is desired – while dining at an exclusive restaurant, for example – a special piece such as the Paradise Necklace is spot on. The use of crisp white clam shell beads, iridescent moonstone, and gemstones in striking tropical hues lend its sophisticated styling. The glamorous tassel on the long necklace evokes images of Gatsby-like soirees. On the short necklace, the stunning gemstones in aqua-hued chalcedony and quartz highlight the neckline, complementing a gorgeous gown.
While perfect for a cruise, or island destination, resort jewelry can be worn at home as well. The same versatility that makes fashionable jewelry for vacation so suitcase-friendly can be applied during day-to-day life. The pieces can be dressed up or down; they're ideal for office to evening transitions. The endless color combinations mean they will complement many outfits, year-round. For a special night out, a holiday party or a New Year's party, a distinctive piece of jewelry embellishes a beautiful dress impeccably.
SolEscapes is a California based online boutique offering a unique selection of stylish and practical sun, beach and resort essentials for all warm weather needs. SolEscapes offers personalized service, high quality products and fast affordable shipping. Merchandise including all beach hats is carefully and beautifully packaged to ensure a perfect arrival. For more information, please visit SolEscapes.com. You can also connect with SolEscapes on Facebook, Twitter and Pinterest.