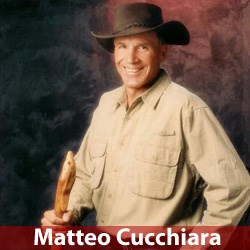 When I heard Susan Weeks' riveting story, I knew I was stepping into dangerous territory, taking this project on. . .but I couldn't resist.
Westin FL (PRWEB) December 14, 2013
Matteo Cucchiara is the author of DEFYING THE MOB: Underworld Secrets Exposed, a true crime story about the life of Susan Weeks that has shocked the business community. To her business colleagues, she appeared to be a charming well-groomed, well-spoken investment council executive; a no-nonsense entrepreneur and public advocate. Even her friends had no idea she was married to a Dixie Mafia henchmen or that she was the FBI's #00003 informant who contributed to the incarceration of dozens of mafia criminals.
When Matt Cucchiara, CEO of Cinema Island Productions, Author and Executive Producer, was approached by Susan Weeks to pen her memoirs revealing Mafia secrets never told, he was immediately intrigued. The story was riveting and almost horrific to believe. He proceeded to investigate the truth of the story and verified the facts of the incidents, trials, corruption, and murders that Susan shared. Weeks was the only female allowed into the inner circle of the Dixie Mafia and the only one to get out alive. Please note, she was warned by the mob boss never to reveal what she knew or she would be signing her death certificate.
Defying the Mob is her real life story that takes the reader on an adventure of espionage. Imagine this petite, beautiful, innocent woman who finds herself surrounded by dark underworld figures, bullied and abused by some of the most terrifying killers in the south. Susan was forced to find the will-to-survive, confront her mortal demons and come out victorious.
As a young girl growing up in rural South Georgia, Weeks had no idea her life would be what it is now, and she certainly had no idea of the path her life would take to get her to where she is now. After coming so close to death so many times, she realized that to tell her story could save other women caught in the same deadly trap by showing them the hope and means of escape. She had to break her silence.
She possesses enormous courage and determination. These traits are exposed in her book and will play with your emotions as you walk her journey of helplessness to finding the courage to survive.
The Susan Weeks of today battles on. After a recent book signing, the store manager was warned not to sell another book in his store. He continued and his store was burned down. The next day a defiant Susan was sitting on a chair in the still smoldering ashes of the burned-out store signing her books with body guards.
Cucchiara is an Executive Producer of the film "The Price," starring Sonny Shroyer and "Angel Camouflaged," starring James Brolin with special effects by academy award-winner Robert Stromberg.
Matt, a resident of Weston, FL, has been involved in the financial world for over 25 years. He has been featured in, and has written many articles for magazines and sports journals. He is the author of the novel "Earthkill," a children's short story - "Children of the Magical Forest," and is currently working on "Channel," another thriller.
His story and screenplay for the horror film, "Flatwoods Monster" is in development as well as a movie, "The Tenth Symphony," based on a concept by Robert Gugliuzza. He is an Executive Producer and wrote the screenplay for "Sight Unseen," working title, "Vision," which won the "Crystal Reel" Award signifying the screenplay to be among Florida's best. "Vision" also won an award as one of the finalists in the Hollywood International Screen Play Competition.
Matteo was an analyst for Doubleday Publishing, a member of "The International Who's Who of Poetry" and speaks five languages. He received both a BA and BS from Fordham University and attended graduate school at New York University. He was an All-American track star, a champion wrestler and Judo player, an international champion long distance runner, a cyclist, and a National Champion tri-athlete inducted into Fordham University Athletic Hall of Fame and Penn Relays "Wall of Fame."
You can learn more at http://www.DefyingtheMob.com and download a free excerpt from the book which is available for immediate purchase in paperback and ebook on the website or in major bookstores.
Matt is available for interviews, speaking engagements and book signings.
Media Contact:
MSBD, llc.
Matteo Cucchiara
(888) 317-0895
http://www.defyingthemob.com