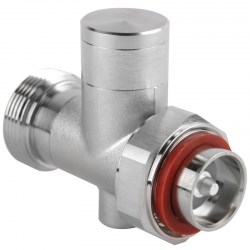 (PRWEB) December 14, 2013
Recently, the renowned surge protector manufacturer and retailer in China, RFcnn.com, has unveiled its new selection of quarterwave surge protectors. According to the CEO of the company, RFcnn.com is now providing big discounts on these useful items. The special offer is valid until January 2, 2014.
"We are delighted to announce our fresh range of quarterwave surge protectors. In addition to the well finished items, we are now also providing excellent custom made products at our online shop. Customers who are planning to buy tailored devices can visit our website," the CEO states.
As a matter of fact, the company is known for its excellence in product quality and customer service. All its online workers are kind and professional. At the company's website, every visitor is treated as a VIP. The company understands that each client is equal and important, so customers do not need to worry if they are small buyers.
With the fast development of creative projects, quarterwave surge protectors are in great demand. Thankfully, RFcnn.com has stepped into the industry to provide clients with high end protectors. The CEO says that the company will continue to announce more practical products for customers throughout the world.
About RFcnn.com
RFcnn.com is an online shop of high end devices. It is a China based company that aims to provide customers with high quality products at the lowest possible prices. Customers can try the company's products through sample orders with a long-term contract. Most customers come back soon after receiving their first deals.
More details about the company's useful products can be found at can be found at http://www.rfcnn.com/Surge-Arrestor-Quarterwave-For-Microwave-DIN-male-to-female-30.html.