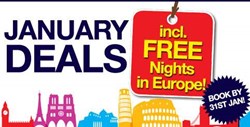 (PRWEB UK) 26 December 2013
Short breaks specialist, Superbreak, has launched its annual winter sales campaign offering customers a range of deals across its UK & European hotel product throughout January. The January hotel deals range from 3 night breaks in Europe for the price of two, 50 per cent savings on Sunday night stays and even complimentary sightseeing tickets, such as a Thames or Seine river cruise.
The free night stays in Europe will be available across the firms' popular Eurostar and flight inclusive packages, and will also include 4 nights for the price of 3 and 7 nights for 6 for customers wishing to take a longer break. A typical package including a three night stay in a three star Paris hotel, including breakfast, return Eurostar travel and a complimentary Seine river cruise starts at £148 per person. The Yorkshire based tour operator hopes these packages represent real value and choice to its customers in the New Year.
The firm is also pleased to announce a range of sightseeing tickets that can be added on at the end of a booking without charge. These include a London Thames river cruise, Paris Seine cruise and even a Ghost Walking tour in York. More are expected to be added at the start of January. In addition to this, many of the firms' hotel breaks will offer even more ways to save with added extras including dinner on the first night, shopping vouchers, attraction tickets, afternoon tea and upgrades.
January is traditionally a key sales period with some of the highest sales expected to be taken during this time. Last year, almost 70,000 passengers took advantage of the short break deals in January, with the most popular locations being city break destinations such as London, Paris, Edinburgh and York.
Online Marketing Manager, Khalid Amin commented: "Our 2014 January offers campaign has something for everyone with free night offers on European breaks and free sightseeing in key cities such as London and York. Value added promotions such as this proved really successful throughout the summer of this year and we are confident that our January offers campaign will prove similarly successful."
About Superbreak
Superbreak is the internet division of Superbreak Mini Holidays Limited, the market leader for short breaks and hotels throughout the UK and beyond, including York Hotels and a range of last minute hotel deals. Superbreak is part of Holiday Break plc. Based in York, England, Superbreak specialises in booking city breaks in 2-5 star hotel accommodation throughout Britain for the leisure traveller. Superbreak also work with various travel providers offering a range of rail breaks, P&O mini cruise breaks, flights & more.
With 5000 plus hotel partners in worldwide locations from Manchester to Brighton, from London to Paris and with great availability and rates for theatre breaks, events at the O2 Arena, various popular attractions and national and international rail partners, Superbreak can offer an outstanding depth and breadth of UK and Overseas short break products.
Note to Editors
We authorise the republication of this content with the condition that a link to Superbreak is included: http://www.superbreak.com