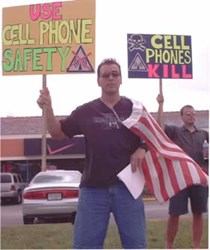 Starts with parents getting educated on how to protect their kids from excessive cell phone radiation exposure
Tampa, FL (PRWEB) December 14, 2013
The RF Safe Air Tube headset was developed with air tube acoustic technology to keep potentially harmful radiation away from your head. This technology utilizes a state-of-the-art enhanced sound chamber that delivers crystal clear sound through an air-filled wireless tube (similar to a doctor's stethoscope). By replacing the wire with air tube acoustic technology, the RF Safe Headset reduces RF exposure to the head.
Conventional headsets use wire to deliver sound to the earpiece and may also deliver electromagnetic radiation directly to your head into your ear.
The RF Safe Air-tube headset delivers crystal-clear sound through an air-filled wireless tube, which reduces the possibility of hazardous RF radiation exposure.
What makes this risk so insidious is the potential to dismiss it altogether, in part because it is convenient to do so, and in part because it's hard to take seriously a potential menace that is totally invisible. Yet the findings of legitimate RF health effects research is found in black and white, which indicates that parents must "err on the side of caution" to protect their children.
RF Safe's website http://www.rfsafe.com is a wealth of archived informational safety data that parents can keep up-to-date on current research. Even more important is just how easy it is to use very simple accessories that nearly eliminate RF radiation exposure with regards to Specific Absorption Rate to the brain and body.
RF SAFE is the world's premier provider of cell phone radiation protection accessories and informational data. Since 1998 RF (Radio Frequency) Safe has been dedicated to evolving the wireless industries safety standards, by engaging in the business of design, testing, manufacture, and sale of safety technologies to mitigate harmful effects of cell phone radiation.