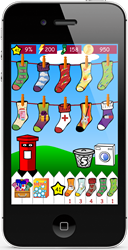 Highly addictive social game inspired by laundry basket of geek parents.
(PRWEB) December 16, 2013
Oak Games, the small Isle of Wight mobile game developer with a reputation for launching hugely popular games recently launched its new favourite, Odd Socks for both Android and Apple users.
Play and iTunes reviewers are calling the game "highly addictive", and all tallied the mobile app now has 250,000 active monthly users between the three platforms.
Odd Socks launched first on Facebook is trending on Google Play and is currently 56 in the top Overall grossing apps and 117 in the iOS Store.
For those that haven't been pulled into the frenzy of Odd Socks yet, it is a very easy to use mobile game, suitable for all ages. The sock monster pays a daily visit to users, who scramble to match up pairs of odd socks on their lines. Match socks and earn coins. Run out of socks and choose from purchasing more coins, getting your friends to empty your bin of odd socks or just wait for the friendly sock monster to show up. It gets even more crazy with raiding friends' sock bins for missing pieces and levelling up to discover new patterns from the traditional Argyle and stars and stripes to socks with cute bunnies and even rock band themed socks, including The Beatles.
A surprising work of genius, Oak Games co-founders Sian Mitchell and Dave Walker say the inspiration behind the hit game "was born from having 6 kids and an inconceivable pile of socks to sort out".
Oak Games is a small studio of five developers based on an island off the coast of England. While the team isn't huge in number, its long string of hit games has certainly made big waves in the industry over the years.
Going from being part of the original 'bedroom game programmer' crew back in the 1980's to working in oil, pharmaceutical and government sectors, and back to the fun of game development Oak Games' team has developed a notable portfolio of hit games and accolades since 2005.
This includes Sudoku Works which hit number one in numerous countries including Australia. PC game Brain Trainer hit number one in France and elsewhere. Oak Games has also made a big impact with Kindle Active Content, taking first place in the Kindle Charts in 2011 second only to the device itself.
Download the Odd Socks game for free at on Google Play or iTunes. For more information on Oak Games and more hot apps visit http://oakgames.co.uk/