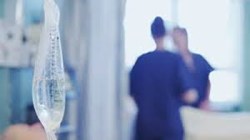 Just as the case with any drug, the dose of fluid therapy is very important and that is something that is often being forgotten.
Bolton, UK (PRWEB UK) 18 December 2013
As reported by the BBC, new research has shown that around 500 patients could be dying each year because they have been given too much or too little fluid through a drip (1). Health experts have warned that there is an 'astonishing' lack of training associated with the use of intravenous drips, a standard which must be raised to improve the standard of patient care available.
It is believed that one in five patients have suffered complications because they were given too much or too little fluid through an intravenous drip, and consequently, potentially, hundreds of those patients have died from related diseases (1).
With pneumonia and kidney failure counted among such complications, it is believed that mistakes stem from sub-standard training (2).
Dr Jerry Nolan, an intensive care consultant, said (2) –
"We know that some elements of the undergraduate curriculum will include the physiology of fluids, but it appears that there is some disconnect between what they learn at medical school and a lack of practical application when they become doctors.
"I think it's really important that health care professionals understand that fluids are effectively drugs, and just as the case with any drug, the dose of fluid therapy is very important and that is something that is often being forgotten."
The National Institute for Health and Care Excellence (NICE,) has called for changes to be put in place; suggesting that an 'IV champion' should be present within every hospital, and that each patient should have an 'IV fluid Management Plan' which would detail how their care should be managed (2).
Considering the proposed changes, Asons Executive, Suzanne Yates-
"As many as one in five patients suffering from complications is a worrying ratio. Patients can be put on drips for various reasons, to deliver fluid to alleviate dehydration, or to correct chemical imbalances within the blood. If such measures are needed to aid the patient's recovery, it is crucial that they are undertaken with care and expertise.
"At Asons Solicitors, we see clients making medical negligence claims, who have suffered because the professionals caring for them have been over-worked, with the wards under-staffed. Under such circumstances, it is easy to understand how mistakes happen. Where someone has developed complications, which could of been avoided, because of problems caused by a poorly utilised IV drip, then they may have grounds to make a claim for medical negligence compensation."
"The suggested changes may help where lack of training is an issue, however, where wards are understaffed, such problems may continue, as staff will still lack the time to give patients the standard of care needed."
If someone has suffered, then they may be able to make a medical negligence claim for compensation. Taking action can prevent the same situation from reoccurring, helping others to avoid injury in future.
Asons Solicitors deal with NHS compensation and clinical negligence claims on a regular basis, you can contact them on: 0844 850 1062, or you can fill out their medical claim form at asons.co.uk.
-Sources-
(1) BBC News, 'One fifth of patients' drips 'are dangerous'.' (10/12/2013) bbc.co.uk/news/health-25298855
(2) The Guardian 'Thousands of patients at risk from incorrect use of IV drips, warns Nice' (10/12/2013) theguardian.com/society/2013/dec/10/nice-warning-risk-patients-hospitals-ignorance-intravenous-drips
About Asons Solicitors:
Asons Solicitors is a Bolton-based law practice that specialises in personal injury and industrial disease claims. Founded by brothers Imran Akram and Kamran Akram, Asons Solicitors has developed to become a young and dynamic law firm that delivers practical solutions to clients in times of difficulty. Their continued focus on their staff has seen them awarded with the Investors in People "Gold Award"; which is reflected in the professional and personable approach they take in working with clients. They strive to grow and to develop, and their supportiveness and attention to detail ensures that their clients use them time and again.
For further information contact:
Email: info(at)asons(dot)co(dot)uk
Website: http://www.asons.co.uk